AERIAL7 TANK DIY Over-Ear Headphones Review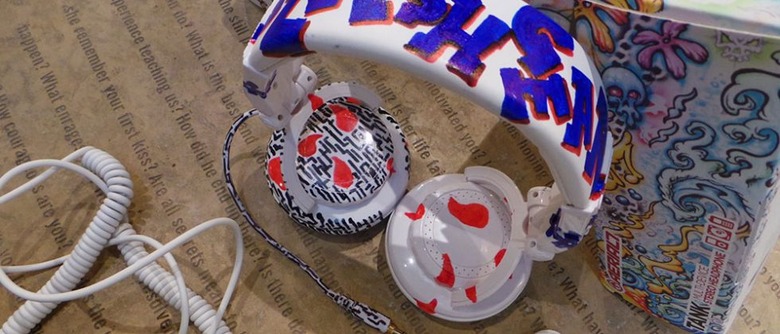 The folks at AERIAL7 have come through with a lovely pair of over-ear headphones in the TANK, here in their newest iteration bringing you a completely do-it-yourself aesthetic. The DIY TANK model comes in all white with a set of materials on the surface that allow for great connections with markets, paint, ink, and everything in-between. Got an artist in the family that also likes to customize everything they own? This might be just the ticket.
These headphones provide a sound quality that's certainly reflective of the price at $100 USD – 57mm drivers with frequency response between 5-20KHz and sensitivity at 108 +/- 3dB at 1KHz. In other words, they sound great for your average music lover. Also included in the package is a 1 meter long coiled standard headphone jack cable that extends up to 2.5m, a 1.2m light weight cable with a microphone for your smartphone, and a 3.5mm – 6.3mm (1/4") adapter to plug in on your much more massive equipment.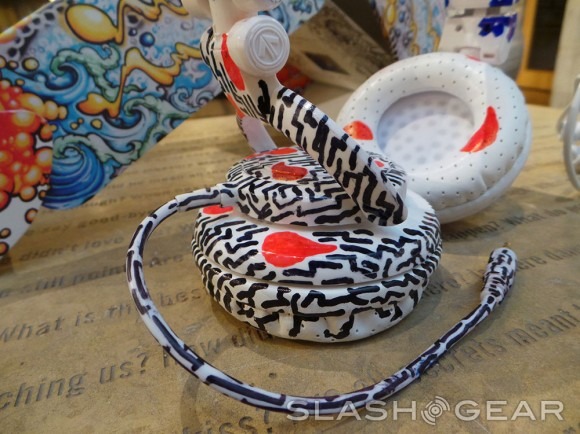 These headphones are rather adjustable with folding-in action for storage, flip-up phones so you can listen in with one ear along, and thick earphone covers so you're not hearing all sorts of outside forces when you're trying to concentrate on your favorite track. The headband also extends for multiple head sizes – even if you've got a gigantic melon.
As these headphones are entirely white before you get to coloring them in, the package includes a lovely silky sack to carry the phones (and your cords) around in. Not just for protection against the elements and keeping your bits all together, but to stop the dirt in your backpack from messing up your phones soon-to-be-lovely aesthetics. To color the phones you get three rather generous permanent markers in the box: red, blue, and black. I say generous because they're not your standard throwaway "10 minutes and over" sorts of crap markers, they've got quite a bit of juice in them.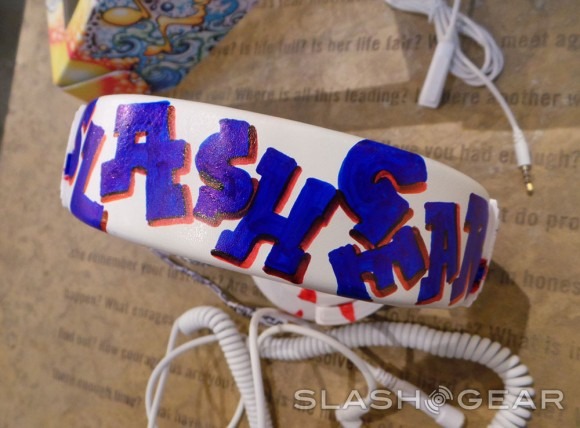 The actual application process you'll go through with these phones is pretty decent. There's no surface here that doesn't readily accept the markets included in the package, and aside from the same "just let it dry for a second" caution you'll need to pay attention to no matter what surface you're working with, you'll find the art portion of this adventure to be entirely enjoyable. We've opted for a rather simple set of designs on the phones we've got here thus far, hitting each of the different materials and all angles to make sure we've got no dead-zones on the hardware – good news: it's all good!