AdventureUltra portable battery with AC adapter: like a mobile wall plug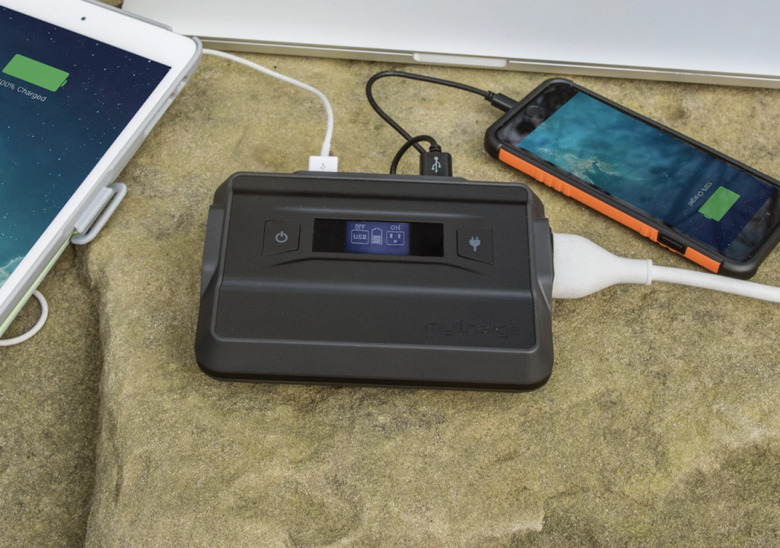 The folks at myCharge make a battery called AdventureUltra that outputs to USB and AC adapter. This monster has a battery capacity up to 13400mAh, and it's made for camping. Of course you can use it anywhere, as over the last few weeks I've tested and confirmed. It's a lifesaver when I'm working on a bus or making a trip across the country in a car with no outlet.
This portable battery excels at being compact and storing power. The company that makes it, myCharge, suggest that a user might use it to run "a 42-inch television for up to three hours." If you're a Tom Haverford sort of person and you're headed out to camp – by all means, do so.
Output on this device is 45 watts, which means it'll quite likely run your laptop at the same time as it charges your laptop. I'm able to run the MacBook Pro I've got in front of me at the same time as I charge it using the USB-C cord and adapter it came with. This battery can also charge and run this MacBook Pro with just its USB-C cord because it has a single USB-C port itself.
Specifications:
• Battery: 13400mAh Lithium Ion
• Product Dimensions: 1.2 in x 5.8 in x 4.1 in
• Product Weight: 1.05 lbs.
• Input: 20V
• Total Output: AC 110V 45W
• Output by Port
• USB-C Port: 3.0A
• USB-A Port #1: 2.4A
• USB-A Port #2: 2.4A
• Total Shared: 3.4A
• AC Port: 45W
This charger has a couple of buttons on it – one for USB ports, the other for the bigger plugs. These buttons work with a single tiny display indicator which shows which parts of the battery are switched on, and in the center it'll let you know how much battery life is left. It's super simple and slick.
This battery is up on myCharge online right this minute for right around $130 USD. If you find yourself without power out and about on a regular basis, there's no better do-everything battery out there. Unless there's a do-everything battery out there that's not yet been revealed to the public, this myCharge battery is the boss.