Advent Vega unboxing & hands-on [Video]
Advent's Vega tablet seems to have surprised everybody with its popularity, not least retailer DSG who can't seem to keep them in stock for more than a few hours at a time. Our Vega review unit braved the UK snow to arrive on the SlashGear test bench, and we wasted no time checking out what Tegra 2 brings to the Android table. First impressions and some unboxing-style fun after the cut.Video after the cut
Advent's retail bundle isn't exactly overflowing with accessories, but then again it's just £249 ($389). Aside from the wall-wart AC adapter you get a USB cable and a quick-start guide, together with an SD card adapter for use with the included 4GB microSD, but if you want a case you'll have to wait for Advent to offer one separately (which we're told is imminent).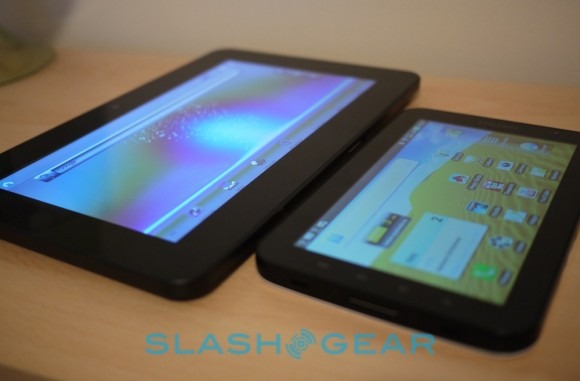 The Vega itself is a hefty slate, with a considerable bezel around its 10.1-inch capacitive touchscreen. It's longer and thicker than the iPad, though a little narrower, and the wide-aspect screen is noticeably thinner. Compared to the Galaxy Tab it's obviously larger, and though both slates use a 1024 x 600 panel the higher pixel density on the Samsung makes it look crisper. More worrying are the poor viewing angles on the Vega, with odd colors and inversions visible when you're not far off-center; they're even more noticeable in portrait orientation. We'll be keeping an eye on how much that affects usability overall.
Advent Vega unboxing & hands-on:
[vms c245530c7a6ebef3753e]
Performance, meanwhile, is slick and we have no complaints on that front. Apps boot quickly and pinch-zooming in the browser is swift and scrolling lag-free. It's worth noting that, in its pure form, the Vega lacks Android Market access and, indeed, any of Google's own custom apps, such as Gmail, Google Maps or the like. There are custom ROMs out there which will address that, however, and you can download and install .apk files as normal.
We'll be putting the Advent Vega through its paces to see if you're getting a bargain or a whole lot of cut-corners ahead of the full SlashGear review, so let us know if you have any specific questions in the comments!