ADVC-HD50 HDMI to HDV converter, compact and bus-powered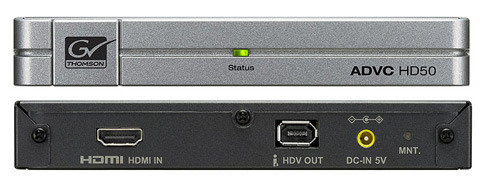 Thomson Grass Valley rolls out ADVC-HD50, an advanced Digital audio video converter that is capable of converting uncompressed and non-HDCP HDMI HD source to HDV format via FireWire (IEEE 1394) output, for the use in any HDV-compatible nonlinear editor like the Final Cut Pro.
The bus-powered ADVC-HD50 is compatible with Mac and PC-based editors. The HDMI ver 1.1 input is able to read formats from 1080 50i/60i, 720 60p/50p, VGA, NTSC and Pal, Liner PCM 16 to 24bit, 32 to 192kHz audio sources and have it convert to output formats of 720 50p/60p, 1448x1080 50i/60i. The palm-sized ADVC-HD50 will be available in April 2008, at a suggested retail price of $999.
[canopus, press release via impress]