Adobe retires Photoshop Touch, teases Rigel retouching app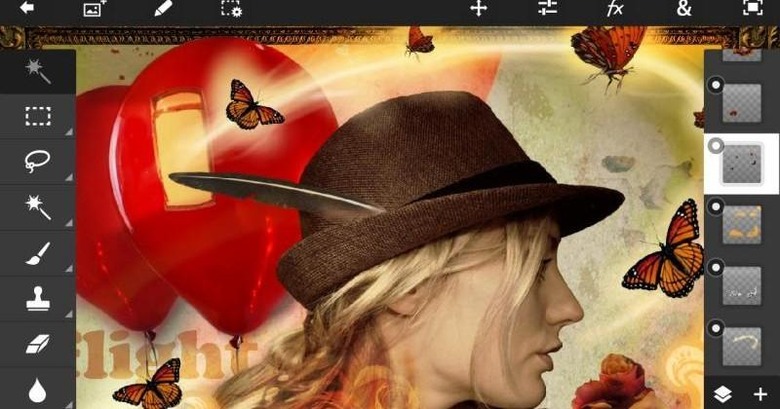 With Adobe's eventual move to the cloud, it is no surprise that it wants to set anchor on mobile as well. After all, it's cloud storage and services would make exchanging files between mobile and desktop a breeze. Although it hasn't exactly made a splash about them, Adobe has quite the portfolio of mobile apps, which it is now showing off in its "mobile presence report card". Sadly, and almost ironically, it is also bidding goodbye to one of the stalwarts of that team: Photoshop Touch.
Adobe has quite a roster of mobile apps, some of which you would never have seen on the desktop. And for good reason. These are the types that don't really make sense on traditional PCs or Macs but are more oriented towards the touch-based worlds of tablets and smartphones. Like Shape CC for transforming captured photos into something that defies imagination, or Brush CC for creating custom Photoshop brushes from photographed content, or Color CC for extracting color themes using a camera.
Of course, some of those apps also leverage existing Adobe technology, like the way Photoshop Mix uses Lightroom's engine for adjusting images, or the way Photoshop Sketch reuses Photoshop's technology. A new app is also in the works, one that also utilizes Adobe's expertise in order to provide one of the most common uses cases for Photoshop right on your mobile device. Simply called Project Rigel for now until its late 2015 launch, this app will let you easily retouch your photos, no matter how high resolution they are, right on your tablet.
For one reason or another, probably due to outdated code, Adobe Photoshop Touch will no longer be part of Adobe's mobile line up. More than two years old by now, PS Touch has been one of the earliest Adobe apps in the mobile world. But starting 28th May, it will no longer be found in app stores. Those who have bought it before will still be able to redownload it, though it's recommended to back up the app as well, especially on Android or Amazon devices.
The hardest hit by this announcement will be Android users since, of all the existing creative tools mentioned above, only Photoshop Touch is available for both iOS and Android. This will probably ruffle feathers again in the Android community who have long felt they always get the short end of the stick in Adobe's products. Adobe, however, reiterates its promise that it will be lavishing some love Android some time this year.
SOURCE: Adobe