Adobe Edge HTML5 App Could Eat Flash From The Inside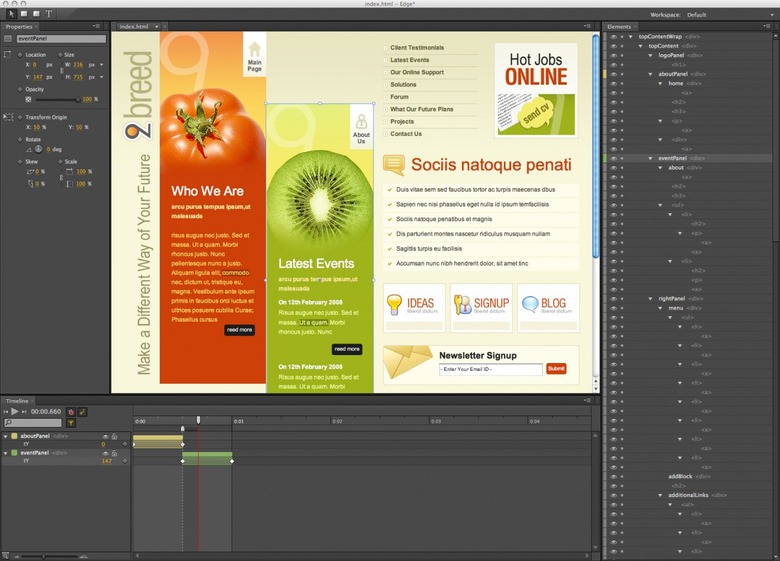 The latest Flash rival has arrived, and bizarrely it's from Adobe itself. The company has launched Adobe Edge, currently in pre-beta, blending HTML5, JavaScript, CSS and more to create online animations and interactive gadgets. Described as building on the HTML5 output already present in Creative Suite 5.5, Edge creates HTML5-based content that will work not only in desktop browsers but in mobile browsers such as those found on Apple's iOS-based iPhone and iPad.
By looking to HTML5, Adobe could effectively bypass Apple's moratorium on Flash support, which seems unlikely to lift any time soon. Although Flash is supported on recent Android devices, Google itself uses more HTML5 for its own web-apps, and online heavyweights such as Facebook are believed to be using the technology – instead of Flash – for things like the Facebook iPad app and the much-rumored Project Spartan.
Edge consists of various drawing and text tools, into which SVG, PNG, JPG and GIF graphics can be imported. A timeline editor allows for easy animation of position, size, color, shape, rotation and more, and there are 25 built-in transitions along with support for modifying them. Existing HTML pages can be updated using Edge to support motion, without breaking the original CSS layouts.
Adobe is keen to point out that Edge is currently only a preview, released before its even hit beta stage so that the company can gather feedback. If it's a success, however, it will be interesting to see to what extent it marginalizes Flash. You can access the Edge preview here.