ADM Radeon HD 7970 Specifications revealed in leaked slide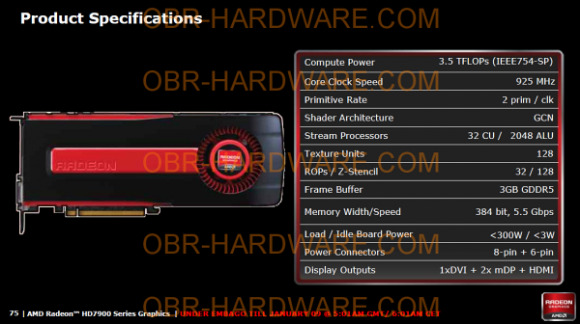 This week we're getting our first real glimpse of the ADM Radeon HD 7970 though what appears to be a leaked slide from the manufacturers, it showing off its mighty power in an array of numbers you're going to just love. As the launch draws near, you'll be glad to know that this device works with GCN architecture, 32 CU (Computing Unit), and a 2048 ALU (SP) that will allow you to operate at 925MHz clock speed, 128 TMU and 32 ROP. All that sound healthy to you?
This next level HD is going to blow your socks off with 3GB GDDR5 memory and a memory interface of 384-bit and is sure to knock out some benchmarks with a base compute power of 3.5TFLOPS. You'll be able to pick this piece of hardware up in a lovely black and red, and though the technology the device uses to attain its mystical combination of a rating of 300W with an idle board power of an undeniably low 3W, we're sure to find it impressive come launch time.
This slide comes leaked from OBR-HARDWARE.com and though we cannot entirely confirm that it's 100% legitimate, all the specifications do seem to line up well with what we've heard thus far. Now the question remains: will you buy one? We'll be sure to let you know the full lowdown when the full release is dropped.
[via OBR]