Adidas accessories revealed for smartphones, tablets, laptops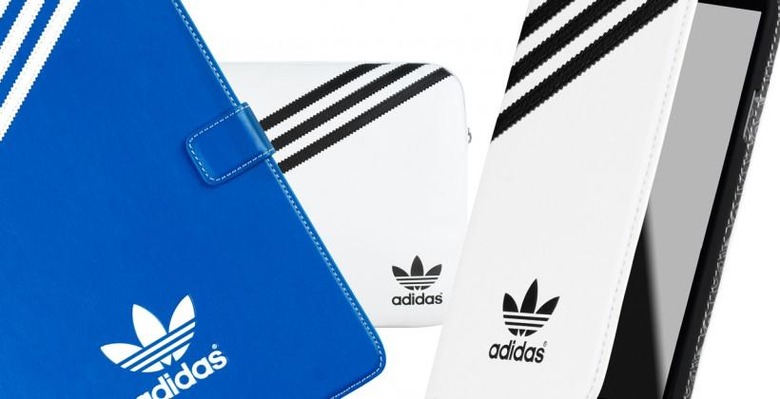 This near-end of 2014 has a surprise release from the company that generally outfits your feet: Adidas. They've come out swinging this week with accessories – cases, mostly – for Apple and Samsung devices of all kinds. The iPhone 6 and 6 Plus are covered, as is the Samsung Galaxy s5, the iPad Air, iPad mini, both 13-inch and 15-inch MacBooks, and a bunch of other devices with general sleeves. And if you're all about outfitting your Motorola Razr, BlackBerry Z10, or Lumia device, Adidas has you covered too.
Adidas Originals is handling this affair, so you know the designs are going to be classic. The devices you'll see covered here range from smartphones to laptops to tablets. You'll have basic color choices at first – then we imagine they'll move on to more wild colors once the first line is released.
• iPhone 5
• iPhone 5s
• iPhone 6
• iPhone 6 Plus
• iPad Air
• iPad Mini
• MacBook Pro
• MacBook Air
• Samsung Galaxy S5
• Motorola Razr (general sleeve)
• BlackBerry Z10 (general sleeve)
• Nokia Lumia (a variety of devices)
• Additional laptop sleeves
This collection includes faux leather cases in a variety of styles. Molded covers will keep your device solidly protected without a cover. Flip cover will allow you to flip up, while booklet will have a cover that flips to the side.
Booklet cases work with a slip pocket in the back for credit card storage. Flip cases have a magnet closure to keep solid while you're on the run.
Each unit works with a printed microfiber lining that protects your smartphone from scratches. On the back, each unit has a tiny bit of space between the phone and the surface of the case, allowing your back camera lens room to breath and stay safe from the surface of the ground should you drop it.
A variety of colors are going to be available through Adidas online and the Apple store both online and in-store starting in December. The White/Gold and White/White combinations will be available through the Apple Store exclusively.
The White/Gold and White/White will be available for the iPhone 5/5S only for the moment, but will be available for the iPhone 6/6 Plus in early 2015.