Adesso offers slim AKB-440 keyboard with touchpad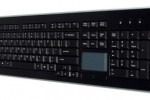 I have a large desk so I tend to spread out and use whatever keyboard and mouse I want to. Some people don't have that luxury and work in such tight confines that they have to use cramped keyboards and end up picking their mouse up and down trying to scroll around the screen.
If you work in such a tight space that you don't even have room for a mouse to sit on your desk, Adesso has a slick new AKB-440 Slim Touch keyboard. The keyboard portion of the 440 is just what you expect with multimedia and Internet hot keys for frequently visited websites. Between the normal keys and the keypad in the area where the arrow keys usually sit is a touchpad.
The touchpad allows you to control the cursor without needing the extra space for a mouse. The touchpad also has an area that acts as a scroll wheel. The keys use membrane technology designed with silicone to reduce typing noise. In all there are 104 keys on the keyboard and it measures 18.25-inches x 6.5-inches x 1-inch.