Addonics Four-Drives-In-One Storage Caddy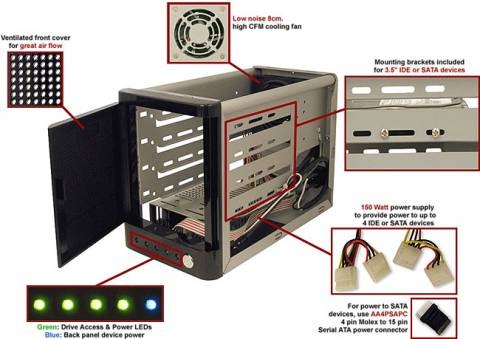 If you're in the market for an external hard-drive caddy there are plenty to choose from.  Will you go for USB or Firewire, or perhaps ethernet or even WiFi connections?  What about the IDE versus SATA decision, bus-powered or with a mains adaptor?  And then, just when you've decided and fitted the biggest disk you can afford... you fill it up, and have to make the same decisions all over again.  Addonics would like to solve that problem for you, with their Mini Storage Tower.

With space for four different drives, 2.5" or 3.5" and each with their own activity indicator, noise and heat are kept down with what Addonics claim to be a ultra-quiet fan.  There's a choice of four different drive-type choices thanks to the interchangeable backplates:
Multilane bridge (MSTS4AML) — for connecting up to four SATA/SATA II hard drives to system via one 1.5 Meter long Infiniband Multilane cable. Multilane supports Windows, Linux or Mac OS.
SATA Port Multiplier (MST5X1PM) — for connecting up to four SATA/SATA II hard drives to the computer via a single eSATA port.
JBOD USB (MST4IDEU2) — to connect up to four IDE hard drives as one large combined drive, two combined drives, or four individual drives to computer via 1 USB 2.0/1.1 port.
Four Individual eSATA ports (MST4ESA) — for connecting four hard drives to the enclosure via four individual eSATA cables.
Prices range from $119 to $195, depending on what setup you order from the factory, and you can choose to have bare drives or drive-caddies for hot-swapping.  If I may put in a suggestion for v.2, how about an ethernet option?