Active Media SaberTooth-SS ASUS Eee PC SSD upgrades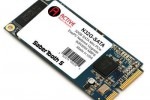 We may receive a commission on purchases made from links.
Active Media are back, and they've brought a range of upgrades for your tired, file-stuffed Eee PC.  The latest SaberTooth-S and SaberTooth-SS SSD ranges are intended to boost storage in compatible ASUS netbooks to up to 64GB, together with access times of up to 155MB/sec.
The SaberTooth-S range are the entry-level SSDs, consisting of 16GB and 32GB Mini PCIe cards.  They're rated for sequential read speeds of up to 90 MB/sec and write speeds of up to 55 MB/sec, and are priced at $62.95 and $96.85 respectively.
As for the SaberTooth-SS range, those 16GB, 32Gb and 64GB Mini PCIe cards can manager up to 155MB/sec read rates and up to 100MB/sec write rates.  That, Active Media claims, makes them the fastest SSD upgrade available for the Eee PC; they're priced at $82.85, $124.95 and $219.95 respectively.
All five of the cards use the SATA-II 3Gbps interface and have ECC, bad bit management and wear leveling.  They're guaranteed to work with the ASUS Eee PC S101, 900, 900A and 901 models.