Active 3D Glasses Standard sought to end shutter nightmare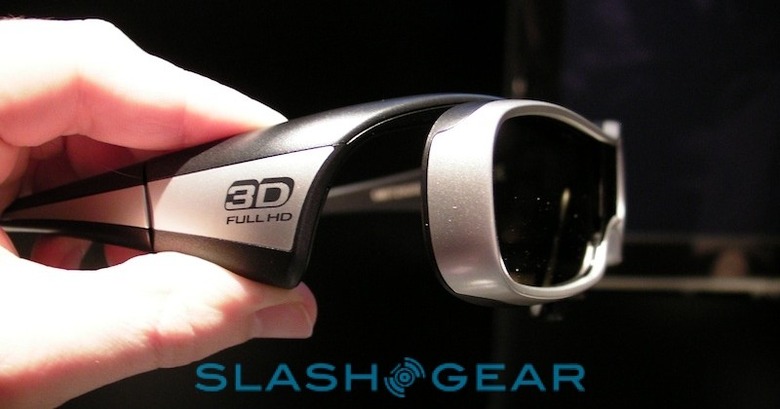 When is 3D not 3D? When you can't use one set of 3D glasses with another screen, that's when. If HDTV and projector manufacturers – not to mention content providers – are going to persuade us to open our wallets and shell out for brand new hardware, they need to get past the pesky incompatibility nightmare. That's just what the CEA (Consumer Electronics Association) is hoping to do, encouraging an active 3D glasses standard [pdf link] as part of its new R4WG16 working group.
Currently, the project is inviting submissions for IR systems it can adopt as an industry-wide standard. The hope is that frustrations like taking your 3D specs round to a friends', only to discover they don't work with a rival manufacturer's system, will be a thing of the past. This isn't going to result in a single badge reassuring compatibility any time soon – you can bet there are plenty of firms that would like to be responsible for the final technology – but it's a sign that things may get better.
Press Release:
CEA Begins Standards Process for 3D Glasses

CEA Seeks Proposals to Standardize 3D Active Eyewear Glasses

ARLINGTON, Va.–(BUSINESS WIRE)–The Consumer Electronics Association (CEA)® today announced the launch of a new standards process for 3D glasses. CEA, the nation's largest technology trade association, represents more than 2,000 technology manufacturers, retailers, service providers and installers. CEA seeks proposals for standardizing 3D active eyewear that uses an infrared (IR) synchronized interface from consumer electronics (CE) manufacturers. Interested participants are encouraged to join the 3D Technologies Working Group, R4WG16.

"The expanding presence of 3DTV in the home makes the need for interoperable 3D glasses more urgent than ever"

"The expanding presence of 3DTV in the home makes the need for interoperable 3D glasses more urgent than ever," said Brian Markwalter, CEA vice president of research and standards. "As the hub of technology industry innovation, CEA is the logical host for such a crucial effort. Industry participation will help meet consumer demand and expectations regarding 3D interoperability in the home."

R4WG16 requests that interested parties in the CE industry download the formal Active Eyewear Standards IR Sync Request for Proposal (RFP), and return it to Alayne Bell at abell@CE.org by 5 p.m. EST, March 31, 2011. You may download the RFP at www.CE.org/Standards/1401.asp.

To join the 3D Technologies Working Group, R4WG16, please contact Alayne Bell at abell@CE.org or 703-907-5267.

After proposals have been submitted, R4WG16 will select the proposals that will become the basis for standardization. Creating a standard for 3D active eyewear glasses can help break down consumer barriers to purchasing 3DTVs, and increase the expansion of 3D into the home.

CEA leads technology manufacturers in fostering CE industry growth by developing industry standards and technical specifications that enable new products to come to market and encourage interoperability with existing devices. CEA maintains an unmatched reputation as a credible and flexible standards making body and has earned ANSI accreditation. Through more than 70 committees, subcommittees and working groups, the CEA Technology and Standards program provides a unique and efficient forum where technical professionals throughout the industry develop a unified technology roadmap and address technical issues critical to CE industry growth. For information about CEA Technology and Standards, visit CE.org/standards, or visit CE.org/Standards/1447.asp to join or start a new standards effort.