Actiontec ScreenBeam Wi-Fi certified Miracast HD kit debuts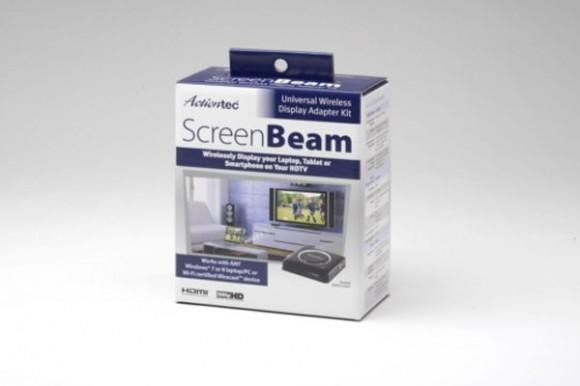 If you're looking for a way to get the content from your notebook or desktop computer to your big screen in the living room without having to use wires, Actiontec has a new product offering that will do the trick. The device is called the ScreenBeam Wi-Fi Certified Miracast HD kit for wireless display. The kit is designed to mirror content on your computer, tablet, or smartphone displays to a big-screen TV in the living room.
The technology is available as a standalone wireless display adapter and as a kit. The standalone wireless display adapter is called ScreenBeam and is compatible with a broad range of Miracast-certified sources such as laptops, smartphones, tablets, and other devices running WiDi 3.5 or higher. The kit includes wireless display software and a USB transmitter for Windows 7 and 8 PCs that lack native WiDi support.
ScreenBeam is the only wireless display solution that supports all Miracast-enabled devices. The product is also Wi-Fi certified and Miracast certified. The system supports up to 1080p HD resolution video and audio. The wireless solution has a 50-foot range with no line of sight required.
ScreenBeam has its own dedicated wireless connection and does not require a home network connection to work. Using the system you can shoot streaming video from your notebook from sources such as Netflix to the big-screen TV in the living room, even if you're desktop computer isn't in the same room. The system also supports photos as well. Pricing on the ScreenBeam system is unknown at this time.