ACRON: In which smartphone squirrels attack a VR tree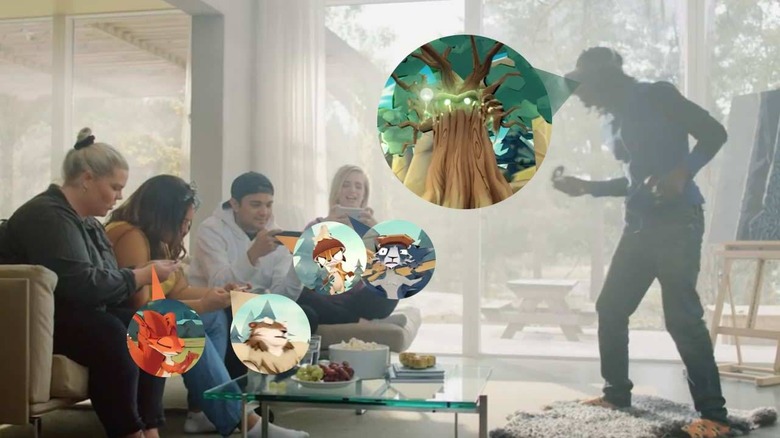 The game goes by the name "Acron: Attack of the Squirrels!" and it ties together VR gameplay (for one player) with smartphone gameplay (for 2+ other players). The game puts the VR player in the role of the evil tree, while the 2-or-more other players are squirrels. The tree attacks the squirrels.
The video you're about to see will make the situation a bit more palatable. In it, you'll find an Oculus Quest on the tree player – Oculus Quest is a standalone VR headset that runs Oculus' own software and has its own built-in sensors so it can work anywhere. Other players join the game on their phones.
The mobile players each take a part in the game as a squirrel. Their goal is to attack the tree to attain the golden acorns. They move in to the environment from a 3rd-person perspective, seeking out the tree in a more traditional space on their phone. The VR player inhabits the tree – attacking from the perspective of the tree itself.
This game's launch system works with 6 levels with varying layouts and visual themes. The game can be purchased on one of several VR platforms for a one-time price of approximately $20. From there, mobile players (iOS or Android) can join the game for free with the mobile app.
This game is supported at launch on Oculus Quest, HTC Vive, Oculus Rift and Rift S, and Windows Mixed Reality headsets. Windows Mixed Reality devices and HTC Vive can find the game on Steam, while Oculus Rift devices can find the game in the Oculus Store.
This game was developed by Resolution Games, the same crew who developed Angry Birds AT: Isle of Pigs, Wonderglade and Wonderglade – Hamster Hoops, and the VR fishing game Bait! Acron: Attack of the Squirrels! is in app stores as of this week.