Acer Windows 8 tablet with 8-inch display appears on Amazon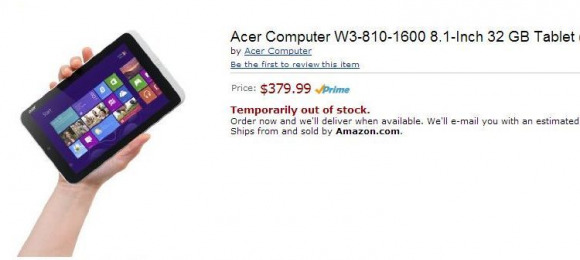 Yesterday, we heard yet another rumor that Microsoft is working on a sub-10-inch tablet, something we heard before that back in April. The rumor yesterday said that Microsoft would be rolling out a 7.5-inch tablet early next year, but it looks like we might not have to wait that long to see a small-display Windows 8 device hit shelves, with Amazon showing the first ever Windows 8-wielding tablet with a display size under 10-inches.
The Acer W3-810-1600 is an 8.1-inch tablet with a resolution the same as the Nexus 7 – 1,280 x 800 – running Windows 8. According to the specs list, inside users will find a 1.5GHz A4 processor and 2GB of RAM, as well as 32GB of internal storage space. Graphics come by way of Intel GMA, and the battery has a 3500mAh capacity with a reported charge life of 8 hours.
The only connectivity feature listed is 802.11b/g/n – no mention of Bluetooth. There's a rear webcam with a decent 2-megapixels, and the entire unit measures in at 8.62 x 5.31 x 0.45-inches with a weight of 1.1-pounds. The color for the device is silver – it is possible there could be other color options, but only time will tell.
And finally, there's the price: $379.99. While it isn't the cheapest tablet out there, the price tag is nothing unusual for a slate, and it is important to remember that it runs full-blown Windows 8, not the less-than-consumer-embraced Windows RT. There's nothing else to speak of on the device for now, but if the rumors prove true, we should start hearing about the slate – or others like it – by this fall.
[via PC Magazine]