Acer Web Surf Station packs simple browser/media into Full HD monitor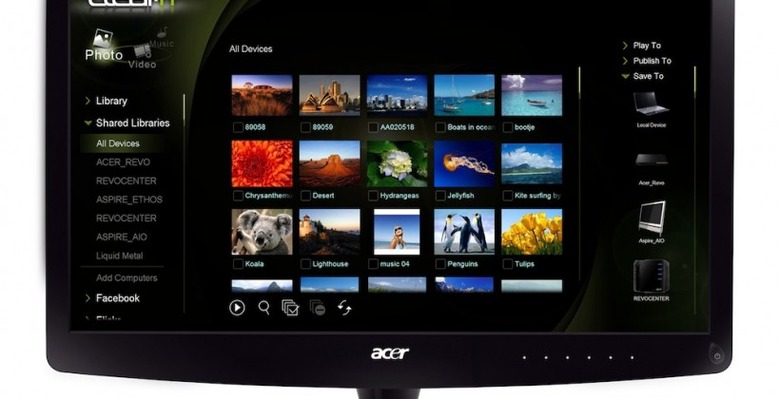 Acer's latest may look like a regular monitor, but the Acer Web Surf Station is actually the latest all-in-one internet terminal for people who really don't want to invite a PC into their lives. Based around a 24-inch Full HD 1920 x 1080 LCD display, the Web Surf Station has an integrated web browser together with a media player – using Acer's Clear.fi branded DLNA – that can stream content across a network (or indeed play it back from USB media).
Both WiFi and ethernet are built in, while ports include VGA and HDMI inputs, audio in/out, USB and a memory card reader. Acer isn't talking hardware specs, but we're guessing there's some sort of low-power SoC inside doing all the web and media crunching: just enough to keep things ticking along, but nothing so complex that a power cycle can't save you from confusion.
Thanks to the two video inputs you can use the Web Surf Station as a standalone monitor, too. It's not going to replace an iMac, but at £299 ($495) when it lands in the UK come May 2011, it might make for a simple web access point for those who get easily frightened by "proper" computers.
Press Release:
Connect, enjoy and share with DX241H

The Acer Web Surf Station

London, 21st April 2011 – Acer creates the Web Surf Station: the first monitor that lets you surf the web and enjoy your multimedia with no need of a computer!

No more time wasted waiting for the computer to boot when you are in a hurry and all you need to do is a quick web search or communicate with friends. What's more, with the Acer DX241H you can enjoy and share your multimedia files as well as get instant access to your social networks.

Including both wireless and wired connectivity options, The Acer DX241H ensures seamless access to available networks for instant Internet access. With a 61cm (24") panel, this display offers plenty of room to comfortably view all web content and multimedia. And, to make your experience totally effortless it comes with an integrated browser.

To launch the browser, just click on the WWW icon on the Web Surf Station home page. Intuitive and easy to use the Web Surf Station browser makes it simple to navigate the Internet. A bar at the bottom of the browser enables you to easily switch to other functions, set the volume, or return to the Main Menu

Pre-loaded on the DX241H is Acer clear.fi media sharing system, an easy to use solution that allows you to enjoy and share photos, music and videos with other devices in the home network, from Picasa™ or Flickr, or from an external storage device like a USB drive or media card.

Enjoying and sharing your multimedia using Acer clear.fi is easy. Once you have opened clear.fi by clicking ion Photo, Music or video on the Web Surf Station, you can choose the content you want to playback from a list of sources:

• Library contains preloaded samples and files in your device

• Shared Library contains shared files from other devices in your home network

Select the video, music or photo you wish to playback and start having fun. The Media Control Panel lets you control what you're playing, or switch to other functions.

The Acer DX241H is built to DLNA® standards, meaning not only that it can seamlessly work together with other certified devices, but also that has extended capabilities, such as play, render, find and upload content.

Along with all these innovative functions, the Acer Web Surf Station packs high-end monitor features, to ensure the best viewing experience. Available in 61cm (24"), with Full HD resolution (1920x1080) the DX241H drives jaw-dropping cinematic views of the latest high definition content which are ideal for advanced Full HD gaming and multimedia viewing. With a 16:9 aspect ratio, the perfect size to watch every bit of a movie with no black stripes and the same splendour of a theatre screen.

Featuring up to 80,000:1 contrast ratio, optimized by Acer Adaptive Contrast Management, the DX241H display offers a significant improvement of gradation and detail, especially with dim or bright images thus ensuring a superior visual experience. The play-back of simply flawless videos and games is a given thanks to an awesome 2ms response time that along with Overdrive technology reduces deviations in transition time and allows the display to reproduce true to life moving images.

The DX241H offers a range of ports for effortless integration with other devices. VGA for analogue connectivity; HDMI® enables outstanding high-definition viewing and best uncompressed quality video; USB ports which allows easy connection to other devices and allow instant media playback. The monitor also includes a built-in card reader to quickly share and enjoy multimedia files.

A highly sophisticated design compliments the innovative functional features and gives a touch of class to any environment. The graceful base has a transparent ring around for a richer visual impact, while the teardrop-shaped power key adds a cool touch of class.

The Acer DX241H will be available in May with a SRRP of £299 inc Vat.