Acer TravelMate P243 notebook PC revealed with Ivy Bridge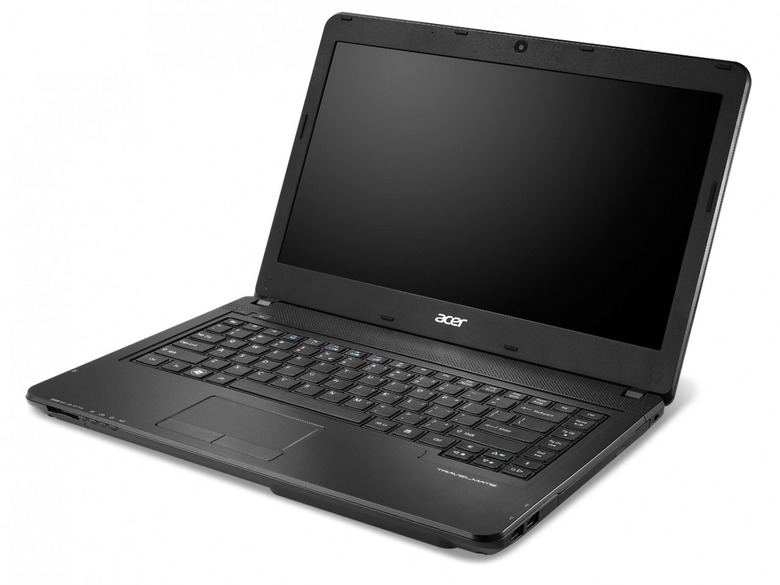 This week the folks at Acer have brought forth a lovely new notebook made for business users with both security and impressive performance made to rock. This device has a spill-resistant keyboard to protect your insides, works with a fabulous Ivy Bridge 3rd Generation Intel Core i5 processor with Intel's Turbo Boost Technology, and will be coming to the USA very, very soon. This notebook has a 14-inch Acer "ComfyView LCD LED backlit display coming in at HD 1366 x 768 pixel resolution and a 16:9 aspect ratio right up front and center.
This device works with Wireless Display (WiDi) technology which means you'll be able to connect wirelessly with a high definition display just so long as it's got a compatible adapter – more on that as the device is revealed. Also inside you've got 4GB of DDR3 memory upgradeable to 8GB as well as a SATA hard disk with up to 500GB of capacity. Also onboard you've got Gigabit Ethernet, Bluetooth, and Wifi so you'll be connected no matter what you need to connect with.
The Acer TravelMate P243 notebook PC has a high-def webcam of unspecified quality as well as built-in microphone for use with Acer Video Conference. As for security, you've got multi-level Acer ProShield Security with BioProtection Fingerprint protection – it reads your fingerprint and bang! You're in. You've also got Acer ProShield pre-boot authentication (PBA) that "protects the notebook from the BIOS level all the way to the application level."
With PBA you're able to create a Personal Secure Drive (PSD) for storing and encrypting your critical files. With your PSD you'll be sure that all of your files are secure even if someone steals your notebook. You can access this set of assets remotely if you need to delete them – and you've got a File Shredder utility at any time if you need to remove files permanently beyond recovery.
Acer Backup, on the other hand, makes sure you've got protection for your media and digital assets galore, and Acer eRecovery Manager brings you recovery of your files whenever you wish. Acer Office Manager (AOM) brings power to small businesses with the ability to deploy security policies, schedule maintenance tasks, and monitor IT assets from one application.
This notebook will be available in early August from authorized Acer resellers across the USA starting at $699.99. This notebook will also be available in a much more conservatively powered and priced iteration with a 2nd Generation Intel Core i3 processor for $599.99.
Look for one to pop up at your workplace soon!
[via Acer]