Acer takes first place on Top Netbook Manufacturers list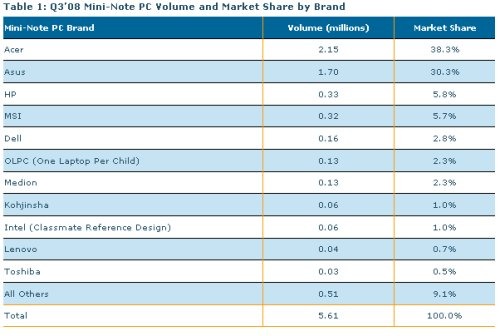 The numbers are in and it is undeniable that the netbook market has hit the ground running. DisplaySearch has released a Mini-Note PC Volume and Market Share 3Q 2008 report showing that Acer has come out way ahead of Asus. Acer came in at 2.15 million, while Asus only claimed 1.70 million, that's a difference of 8 percent overall.
At very distant third, HP comes in with .33 million, that's just 5.8 percent. We expected their Mini-Note line to do much better than they actually did. It looks like we are going to have to cross our fingers and hope that their sales improve in the fourth quarter. This report speaks volumes against all those who criticize the netbook market. It is undeniably clear that netbooks are here to stay.