Acer reveals five new Ultra Slim LED backlit LCD displays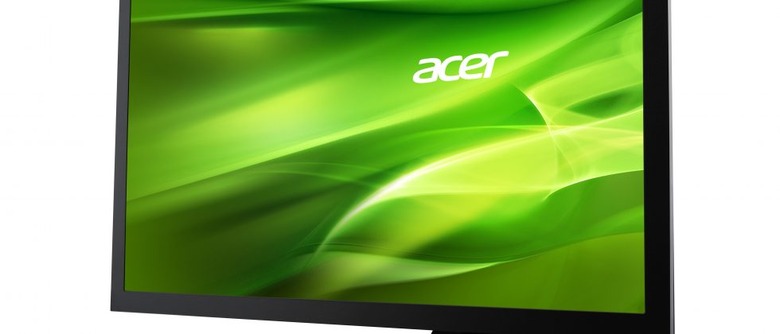 Today Acer is bringing five new LED-backlit displays to the party, each of them ultra slim and ready for 100,000,000:1 contrast ratio action. These monitors are able to work with a 5ms response time and range from 20 to 27-inches, each of them with adjustable tilt bases. These new displays are ready to work with slim profiles, Acer's own eColor Management tool, and an eco-friendly package. Each unit is made of entirely mercury-free material and works with LED technology which Acer reminds us all consumes up to 68 percent less power than a standard LCD display would.
First Acer has the S235HL 23-inch Widescreen LCD, a monitor which holds a 2012 iF product design award, a prestigious honor indeed. This monitor is just over a half an inch thick, has a glossy black bezel, and sits on a silver stand. This device has ice-blue LED buttons in the stand for controlling the display, and all of the I/O ports sit below the base for a clean overall experience and appearance. The LED-backlit LCD mintor comes in at 1920 x 1080 pixel resolution fed by one VGA and two HDMI ports, all of this with High-Bandwidth Digital Content Protection capable of supporting 1080p HD. This HDCP Acer notes "allows for viewing of digital movies and copy-protected media." This monitor will be available in April for MSRP $219 USD.
Next is the Acer S200HL with a 20-inch widescreen LCD – this 1600 x 900 pixel resolution beast works with VGA and FVI for all the compatibility you might need, and is available right now for MSRP $139 USD. Next there's the Acer S230HL Abd and S230HL Abii 23" Widescreen LCDs, each of them the same size with 1920 x 1080 pixel resolution and a different selection of inputs depending on the model. The Abd model has two video inputs, one VGA and the other DVI (with HDCP). The Abii has three signal input ports, one VGA, and a couple of HDMI ports with HDCP as well, these for full 1080p HD content. Both monitors are also available now, the Abd for MSRP $169 USD, the Abii MSRP $189 USD.
Finally there's the Acer S271HL 27-inch Widescreen LCD, a monitor with 1920 x 1080 pixel resolution and both DVI and HDMI ports with HDCP for 1080p video. This monitor is also VESA compliant so you can mount the whole thing to the wall with ease. This monitor will be available starting in April for MSRP $329 USD.
Exciting stuff if you're looking to stay in the desktop game – perhaps time to upgrade before your big jump to Windows 8? Let's do it!