Acer Predator G1 release date set with GTX 1080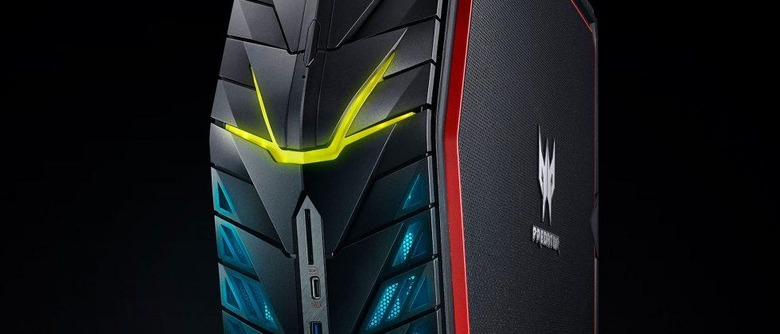 The Acer Predator G1 (aka G1-710-70001) has been made available this week with an NVIDIA GeForce GTX 1080 graphics card inside. This desktop is being made available on pre-order starting this afternoon at a starting price of $2299. As mentioned earlier this year is the setup users will receive if they purchase this desktop starting today (for a limited time), in which a DVD version of Ubisoft's Tom Clancy's The Division game will be included, as well as a "wheeled carrying case" for the PC.
Acer suggests that this version of the Acer Predator G1 with NVIDIA GeForce GTX 1080 graphics card also comes with a 6th Generation Intel Core i7-6700 processor, a 512GB SSD, 32GB DDR4 memory, and a 2TB 7200 RPM hard drive.
An oddity here with this beast of a gaming PC is the appearance of two 230 W power supplies, which means the two DC-in jacks are going to need to be plugged in at all times. It would seem that these two power supplies are used (with the big boxes, the power supplies themselves,) to offer a slimmer desktop overall. We'll see how well this works when we review the device ourselves!

This desktop includes the following features for gaming enthusiasts (and oddity seekers alike).
• Thunderbolt 3 brings speeds up to 40 Gbps to the USB 3.1 Type-C Gen 2 port, providing the fastest, most versatile connection available for huge expandability and fast data transfer
• Support for G-SYNC and 4K2K Ultra High Definition visuals
• Killer DoubleShot Pro for delivering high priority game traffic over the fastest network connection (Ethernet or Wireless)
• Acer's PredatorSense software for checking and controlling system vitals, setting up hotkeys and adjusting the chassis' multicolored lighting
• A Predator Flare (mechanical) gaming keyboard and Predator gaming mouse
Have a peek at the full specs in the gallery below and let us know if you'd prefer this model or the G6 we reviewed not too long ago!