Acer outs H9500 DLP home theater video projector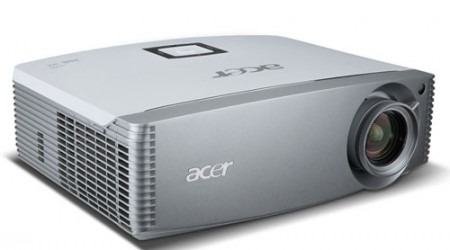 The last time we talked about a new projector from Acer was back in February when the P5403 debuted. Acer is back with another new projector today called the H9500. The projector is suitable for use in your home theater and has full HD resolution with a 16:9 native aspect ratio. Acer packs the projector with tech to improve image quality. It has DynamicBlack to fine tune each scene for optimal black levels without reducing the brightness of the images.
The tech allows the projector to reach a high dynamic contrast ratio of up to 50,000:1 and the projector has vibrant colors too. Acer also uses True Motion Technology to optimize the image with Motion Estimation/Motion compensation tech for more clarity in fast scenes and to reduce motion blur. The projector also has a True 24p feature allowing for the same frame rate as a movie theater.
The projector has a brightness rating of 2000 ANSI lumens and uses Color Safe II DLP technology. Often with DLP projectors, you give up lens shift features. The Acer H9500 still has lens shift with vertical and horizontal adjustment and it has a 15-degree vertical keystone correction setting to make the image perfect. The projector can throw an image up to 300-inches from up to 32.7-feet away from the wall and a 60-inch image needs 1 meter of distance. The SRRP of the H9500 in Europe is £1699.99 Inc VAT and it is available right now.