Acer netbook gets 1080p HD upgrade with Broadcom BCM70012 mod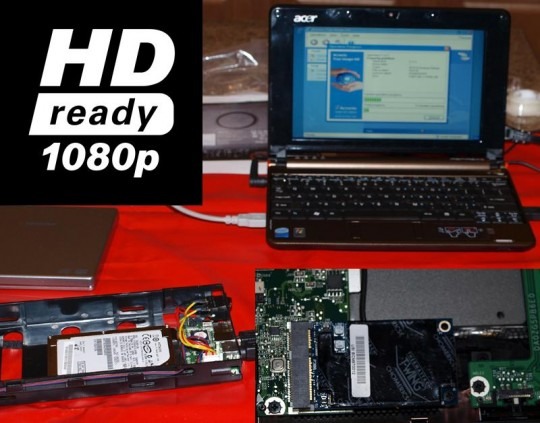 Netbooks generally fall flat when it comes to high-definition video playback, with Intel's GMA 950 graphics chipset struggling even with 720p clips.  Broadcom's BCM70012 video accelerator changes all that, though; a mini PCI-e card, it can handle up to 1080p video with minimal CPU strain on the host system.  So far it's tough finding a netbook with the Broadcom card as an option – HP offer it as an option for their Mini 110 XP – but that didn't stop Terracode from upgrading their 8.9-inch Acer Aspire One with the HD accelerator.
Video demo after the cut
While they had it open, they also slotted in a 64GB SSD and added an extra 1GB of RAM.  The whole upgrade project – netbook included – cost around $442, which is not only two dollars cheaper than HP's Mini 110 XP with the same Broadcom card, but has more storage and RAM.  While 1080p may be wasted on a 1024 x 600 netbook display, plug in an external monitor to the AAO's VGA output and the Broadcom card will push resolution up to 1920 x 1080.
In the two demo videos below, the performance of the Acer Aspire One playing a 1080p clip is shown both with and without the hardware accelerator card.  The first clip uses VLC (which lacks BCM70012 support) while the latter uses the optimized TMT mediaplayer.
Acer Aspire One without Broadcom BCM70012 video accelerator:
Acer Aspire One with Broadcom BCM70012 video accelerator:
[Thanks VasR!]