Acer neoTouch S200 (aka F1) plus beTouch E100/E101/E200 Windows Phones official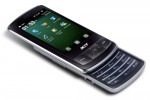 Acer have pushed out their Windows Mobile 6.5 smartphone range, and they've segmented the handsets into two different categories.  The Acer beTouch line is intended for style-conscious, "trendy" users, while the Acer neoTouch line are more serious, high-end devices.  Four models have been announced, the beTouch E100, E101 and E200, and the neoTouch S200 (aka the Acer F1).
The Acer beTouch E100 and E101 both have 3.2-inch WQVGA touchscreens, 12mm thick casings and the same Qualcomm 7225 528MHz processor.  There's also a 2-megapixel camera, Windows Mobile 6.5 with IE Mobile 6, and Bluetooth 2.0+EDR.  The differentiating factor is 3G: the E100 has quadband GSM and dualband HSDPA support, while the E101 makes do with quadband GSM and EDGE.  They're already available in the UK, priced at £210 ($335) and £159 ($253) respectively (plus VAT).
Meanwhile the Acer beTouch E200 has largely the same specifications as the E100, but adds in a slide-down numeric keypad.  It keeps the HSDPA support, but boosts the camera to 3-megapixels, adds GPS and Bluetooth 2.1+EDR support.  It's available for £225 ($358) in the UK (plus VAT).
Finally, the Acer neoTouch S200 gets Qualcomm's 1GHz Snapdragon processor, a 3.8-inch WVGA touchscreen, quadband GSM and triband HSPA.  There's a 5-megapixel autofocus camera with LED flash, WiFi b/g and Bluetooth 2.1+EDR, together with GPS, an accelerometer and 3.5mm headphone jack.  It's on sale in the UK for £295 ($470) plus VAT.
Press Release:
One Size Does Not Fit All

Technologies designed to meet a wide variety of communications needs

Smartphone users are not all the same; they have extremely different characteristics and priorities.

The choice of one product rather than another is broadly determined by how much that particular device meets the user's needs: some users seek a sophisticated and powerful product purely for business use, some choose a product to keep in touch with their world, and there are those who prefer a stylish or glamorous look.

Following extensive market research on user expectations and the relationship between accessibility and content, Acer now presents two new product lines – beTouch and neoTouch – designed to cater for diversified targets and types of use.

The new product lines have a single common denominator: touch.

The two lines are designed to be cutting-edge devices for everyone, not only a limited elite class of users. From now on, anyone can access applications and services online with a simple touch of the finger.

beTouch

The beTouch line brings energy, colour, and warmth to the smartphone world and is destined to light up the lives of active and dynamic individuals who want to change their method of communicating. For this reason, the line is graphically represented by the colour orange, chosen as it is as vibrant and joyous as the beTouch itself.

Style-conscious people who constantly seek out fashion and the latest innovations choose their smartphone so that it reflects their own personality; people who focus directly on design and ease of use, but also insist on a mobile access to Internet to keep in touch with friends. People who won't settle for anything less than a trendy and colourful device like the Acer beTouch E100/101.

If you prefer efficiency and immediacy, on the other hand, there is the beTouch E200. This smartphone features a slide down keyboard, making it the ideal choice for those who require constant connection with their workplace and friends who yet prefer simple and intuitive communications.

It's the perfect combination of a traditional mobile phone and a highly advanced smartphone.

neoTouch

Acer, for its top of the line model for processing power, graphic capabilities and comprehensive connectivity, has chosen the elegance of brown to represent it because brown is a colour that evokes sophistication, taste, decisiveness and solidity.

The Acer neoTouch is a fast and powerful device, complete and versatile, but at the same time attractive and easy to use. It is Acer's response to those trendy and demanding users who are perfectly at ease with technology and who only choose devices that fully satisfy their expectations in terms of communications, information, and entertainment.