Acer neoTouch P300 Review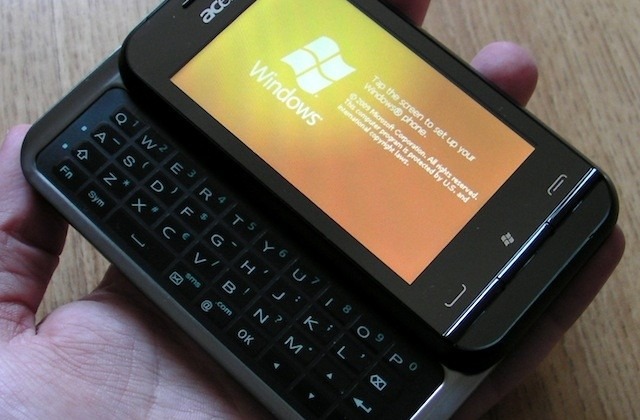 Windows Phone 7 may be just around the corner, but we're still expecting a few new handsets based on the outgoing version of Windows Mobile to be launched in the intervening months. Acer's neoTouch P300 was announced at MWC 2010 back in February, a WinMo 6.5.3 device with a hardware keyboard and European 3G. Check out our full review after the cut.
Based on Qualcomm's MSM7225 528MHz processor, the neoTouch P300 has a 3.2-inch WQVGA resistive touchscreen, 256MB of RAM and 512MB ROM, together with a microSD card slot and slide-out QWERTY keyboard. Connectivity includes quadband GSM and 2100MHz HSDPA, along with WiFi b/g, Bluetooth 2.0 and a 3.5mm headphone socket, plus there's A-GPS and a 3.2-megapixel autofocus camera. The whole thing measures in at a reasonably compact 110 x 55 x 15.1 mm and weighs 130.6g with the 1010mAh battery.
To be honest, none of the specifications particularly stand out – the CPU, for instance, can be found powering numerous Windows Phones from the past few years – and the resistive touchscreen (complete with stylus) seems deeply unfashionable in comparison to other devices on the market today. Physical design of the P300 is sober but neat, with three buttons running along the lower front panel – call, Windows and hang-up – together with a hardware ringer switch that doubles as a volume control and a camera shortcut on the right-hand side. Up top there's a power/lock button, a 3.5mm headphone socket, and a flap covering the microUSB port and microSD card slot. On the bottom there's the speaker and a tricky-to-remove stylus.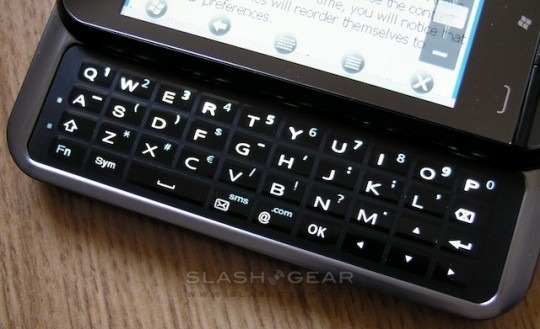 Slide the display section across, and the QWERTY keyboard is revealed. The keys are moulded plastic and have little travel, in fact they reminded us of the 'board you'd find on the old Samsung F700. As for layout, it's generally good but the offset spacebar is shunted across to the left by the Mail and @-symbol keys, whereas if we're forced to have an offset button we'd rather it fall under our right thumb. Opening the phone automatically rotates the display, though there's a little lag in the process.
In the hand, the P300 feels like a reasonably budget device, the plain, plasticky back cover being particularly uninspiring. Still, the slide section feels sturdy, and the keyboard is backlit, which is useful for pecking out late-night messages. The display, meanwhile, is underwhelming, its low resolution leading to blocky text. Trying to view SlashGear in Internet Explorer Mobile, we had to zoom in (in portrait orientation) at least once before article text was readable. The Windows Mobile 6.5.3 menus are more forgiving, however, and Microsoft's attempts to accommodate stylus-free navigation are reasonably finger-friendly. Most dialogs and menus could be travelled without having to resort to the stylus, though sometimes we had to resort to a fingernail.
While 6.5.3 may be ageing in comparison to Android, iPhone OS and other platforms currently on the market, it still does some things well. If you use a Microsoft Exchange server for your email, calendar and contacts then the straightforward setup and automatic push-email means you're up and running in no time at all, and it was simple to connect to a WiFi network. The Windows Mobile Facebook app is preloaded, together with a YouTube viewer; the latter works surprisingly well, automatically playing videos full-screen, and while there's insufficient pixels for YouTube HD content, standard definition looks acceptable and has the added benefit of streaming more quickly. Sound from the integrated speaker can be cranked up reasonably loudly, though it begins to distort at higher levels. Plugging in a set of headphones – there's a basic wired hands-free kit in the box, but after a brief listen we bypassed that and used our own – gives better results.
Pressing and holding the camera shortcut for a few seconds loads up the photo app – it takes around 10 seconds in all – and there's a decent amount of tweaking potential in Acer's software. Up to 2048 x 1536 resolution pictures can be taken (or 320 x 240 video clips) with a choice of digital image stabilisation, low-light and outdoor modes, independent brightness/contrast/sharpness adjustment and various shooting modes and effects. The end results are passable but certainly nothing you'd abandon your point-and-shoot camera for, and the lack of even an LED flash means that – despite the nighttime profile – this is a camera designed for daytime use. We did find that, while the P300 should be able to save photos to its meagre onboard storage, trying to take shots without a memory card inserted seemed to crash the camera app altogether and kick us back into the main menu. The ability to slot in a microSD without having to remove the battery or even the back cover made a nice change, though.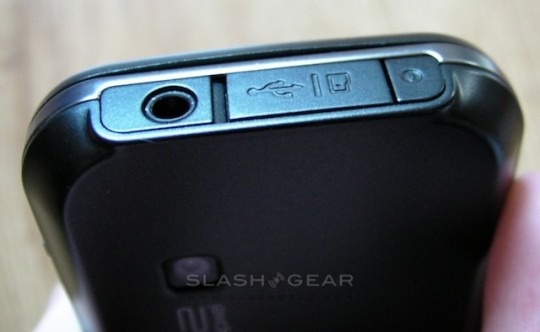 Phone performance was decent, though there's no noise cancellation or DSP like you'd find on more expensive smartphones. Still, both ends of the call reported little background hiss, while the speakerphone was loud and clear. Battery life from the 1010mAh pack is rated at up to 4hrs talktime or 400hrs standby, though with push-email enabled you won't make it through two days back-to-back. As with most smartphones we see, this is something you'll be recharging nightly if you're making regular use of it.
Viewed in comparison to some of the more eye-catching smartphones we've reviewed lately, the Acer neoTouch P300 lacks the appeal of a fashionable OS and the hardware specs of a flagship like the HTC HD2. However, it also lacks the high-end price tag, too; Clove, who sent us this review unit, have the P300 listed at £269 plus VAT (£316), whereas the HD2 retails at £395 plus VAT (£464). We're yet to see any of the European carriers offer the P300, but we'd imagine that it'd likely be priced from free with a relatively low cost monthly tariff.
Not much consumer attraction, then, but as a solid business device the P300 doesn't break the bank or let you down in day to day functionality. It's easy to become blinkered when faced with the latest and greatest cellphones day in, day out, and lose track of the fact that, for many buyers, basic features are all that's really needed.  Still, we'd probably look to budget Android devices ourselves; the HTC Hero may not have a hardware keyboard, but it's only £20 (pre-tax) more. Our lasting concern is the longevity of Windows Mobile 6.5.3 – or, more accurately, the lack of it – since there's no chance that the neoTouch P300 would see an upgrade to Windows Phone 7 later in the year. Nevertheless, even if superseded, the software will still do everything you asked of the P300 on the day you bought it, and there's a considerable catalog of third-party apps available through the Windows Marketplace for Mobile that won't run on a WP7 handset. We'd be happier if the P300 had a little more shaved off the price – a sub-£200 SIM-free smartphone would make for a decent argument – but if your ambitions are merely moderate and you're dedicated to Exchange then the Acer is a reasonable no-frills budget buy.
Thanks to Clove for the loan of the Acer neoTouch P300. It will be available in late April 2010, priced at £269 plus VAT.