Acer Liquid Glow packs ICS and NFC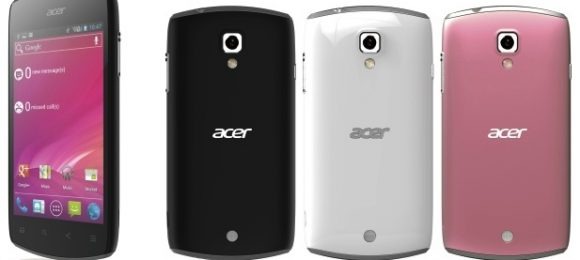 Acer has outed its latest smartphone, the Acer Liquid Glow, a 3.7-inch Ice Cream Sandwich handset which follows the Galaxy Nexus' example and includes NFC support. Set to make its official debut at Mobile World Congress next week, the Liquid Glow has a 5-megapixel rear camera with LED flash, though full specifications are not yet clear.
Acer isn't saying what resolution the display runs at – nor indeed whether it's LCD or AMOLED – and we don't know what processor is at the heart of the Liquid Glow either. In fact, the company is more keen to talk about the smartphone's aesthetic, with a soft-touch casing that comes in "Sakura Pink", "Alpine White", and "Cat's-eye Black" with matching on-screen themes.
Android Beam – using NFC to exchange contacts, links, app shortcuts and content – is present, along with all the other features which s impressed us about Ice Cream Sandwich. However, Acer has oped to fit the Liquid Glow with dedicated touch-sensitive buttons for home, search, back and app-multitasking, rather than the on-screen keys on the Galaxy Nexus.
That seems a shame – it could've allowed Acer to squeeze a slightly larger display into the same form-factor – but we'll have to wait until next week to see if it impacts usability. We're off to Mobile World Congress this weekend, so expect all the news as it happens.