Acer Liquid E Hands-On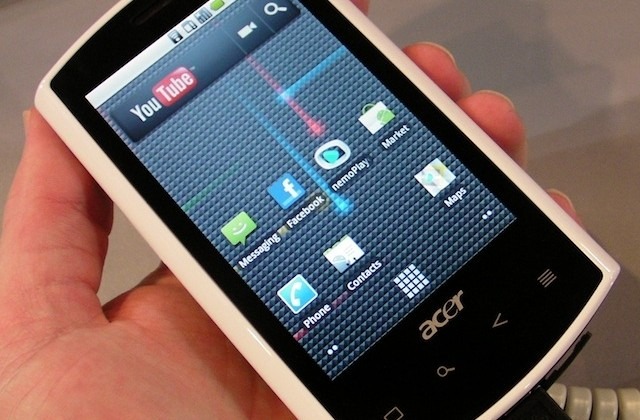 Acer's new Android flagship, the Liquid e, certainly promises a lot on paper – a 768 MHz Snapdragon processor, 3.5-inch WVGA capacitive touchscreen, 5-megapixel autofocus camera and Android 2.1 for starters – so we headed over to the company's booth here at MWC 2010 to see whether it delivered.  Check out our first impressions after the cut.
The body is pretty much the same as we saw before on the Acer Liquid A1, which means it's slightly larger and blunt-edged than we'd prefer.  Faced with slinky rivals like the Nexus One it's an unwieldy thing, frankly, and the chassis doesn't live up to the decently-paced components or the clear, bright display.
Happily things get better once you're actually using the smartphone, and Android 2.1 runs swiftly.  Acer have only added in a couple of customizations, leaving much of the OS as Google intended it; you get a pivoting shortcut wheel of media at the far left homescreen, and a wheel of browser favorites on the far right.  It's not going to supplant the Nexus One – or indeed the HTC Desire – as our top-end Android device of choice, but it's likely to please those who were already considering the Liquid A1.
Acer Liquid e hands-on: