Acer Iconia W4 sighted in hands-on video, powered by Intel Bay Trail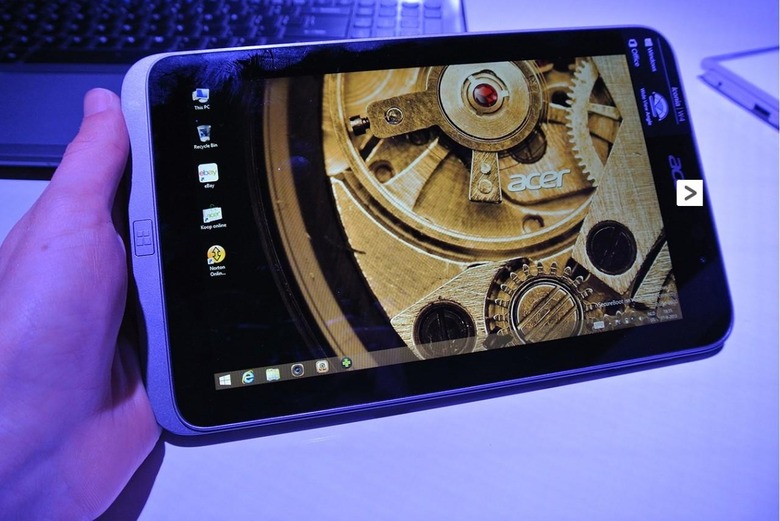 After Intel formally announced its new line of more powerful but still energy efficient mobile processors, it is only natural to hear of tablets and hybrids sprouting up that touts Intel's Bay Trail chips. One such device is the Acer Iconia W4 which seems to be somewhat an incremental upgrade from the company's recent Iconia W3 tablet.
The Acer Iconia W3 is just a few months old but it seems that it will deprecated by the new W4 soon. The W3 runs on a dual-core Intel Atom "Cloverview" Z2760, giving it clock speeds of 1.5 GHz. It has 2 GB of RAM and 32 GB of storage. It's 8.1-inch display has a resolution of 1280x800 pixels but has unimpressive viewing angles. And, of course, it runs on the current Windows 8 OS. You can read up on our full review of the Iconia W3 budget tablet here.
Acer is not hesitant to out budget tablets with similarly budget specs, but with the new Intel Atom line, it may not have to sacrifice so much anymore in terms of performance just to hit that low price sweet spot. The Iconia W4 will be showcasing Intel's latest Atom "Bay Trail" Z3740, which bumps up the to cores to four, running at 1.33 GHz. And while the screen retains the same size and resolution, it has reportedly been changed to an IPS display.
The rest of the W4's specs remains the same. It still has 2 GB of DDR3 RAM and 32 GB of SSD storage, only half of which will be available for use because of the pre-installed Windows OS, which will also be bumped up to Windows 8.1 by the time the device comes out. The tablet is also believed to have a 5 megapixel rear camera in addition to a 2 megapixel front-facing camera.
The Acer Iconia W4 is sell for 330 euros, or around $450. There is no announcement date yet for the tablet, but could either launch after or at the same time as Windows 8.1 sometime around mid to late October.
VIA: Bouweenpc