ACER Iconia Tab A501 with 4G Review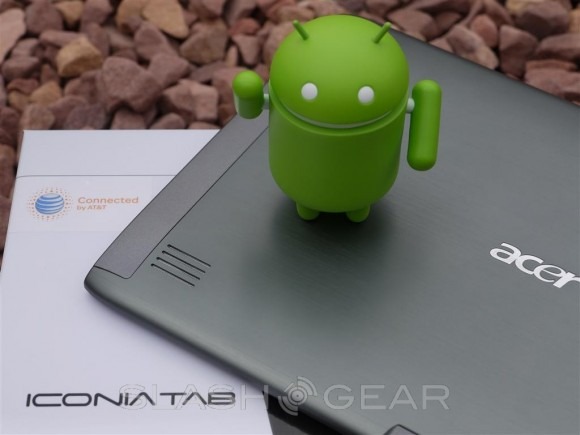 Today we have the ACER Iconia Tab A501 full of AT&T 4G connectivity to show you. We've been enjoying this tablet over the past week or so, taking the 4G for a ride and checking performance. Android tablets come in all shapes and sizes, this is just one more we can add to the list although not many have full 4G support. Take a glance with SlashGear at a few photos, video, and benchmarks and see if this is the tablet for you.
The ACER A501 follows the same footsteps as the original Iconia A500 in every way imaginable, nothing here has changed so you can expect the same good build quality, stellar performance, and crisp bright screen. The one deciding factor here is AT&T 4G comes included with the A501. One of AT&T's first fully capable 4G tablets running on Android Honeycomb although I must mention this is not the next-gen 4G LTE, instead we have HSPA+ speeds but more on that below.
ACER Iconia A501 hands-on and unboxing video
[vms a77191791390c3eb19fe]
Hardware
To start the video above should give you a great idea of the hardware but I've got some specs and pictures for everyone too. What we have is the standard sized 10.1" Android tablet — powered by Android 3.0.1 Honeycomb, the NVIDIA Tegra 2 dual-core processor we all know and love chugging along at 1.0 GHz, 1GB of RAM, 32GB of internal storage, a rear 5MP camera with LED flash, 2MP up front for those video conference users and a slew of ports as well.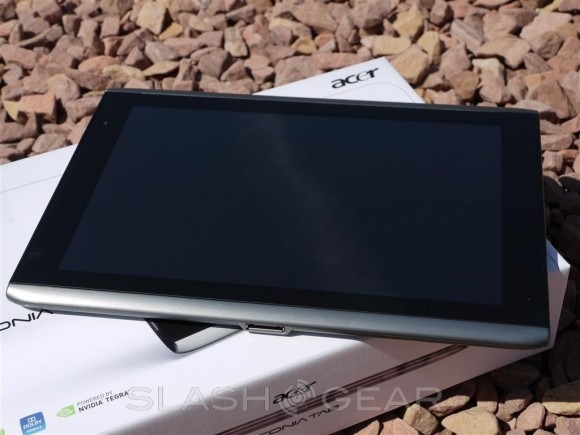 Along the left edge we have a simple and elegant design with the power button, 3.5mm headphone jack and the lone micro-HDMI port. The power button does have an LED for charging and power indication that pulses when in use.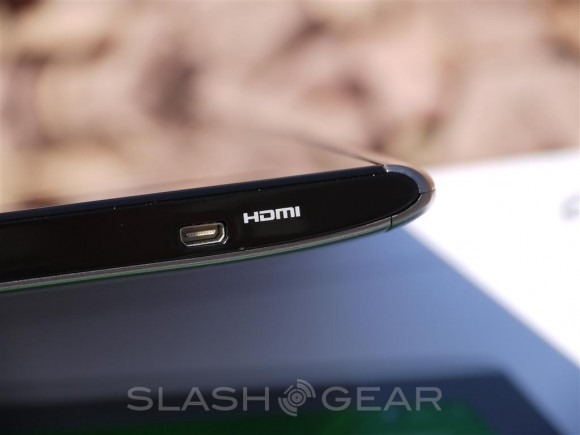 Then if you cruise around to the right side of the ACER A501 we have a reset pinhole, a full size USB port, micro-USB, some labels and the power port. Having a full sized USB and a HDMI-out makes this tablet one of the few that stand out over the rest as many feature one or some of these but not all, and we have 4G too.
On bottom we have a 30 pin docking port but this doesn't charge the device so I've yet to use it. Up top is where the magic happens. We have the volume up/down rocker, a screen orientation lock then the all important port for 4G. We have a door that opens to the microSD port for expanded storage and the full-sized AT&T sim card for 4G HSPA+.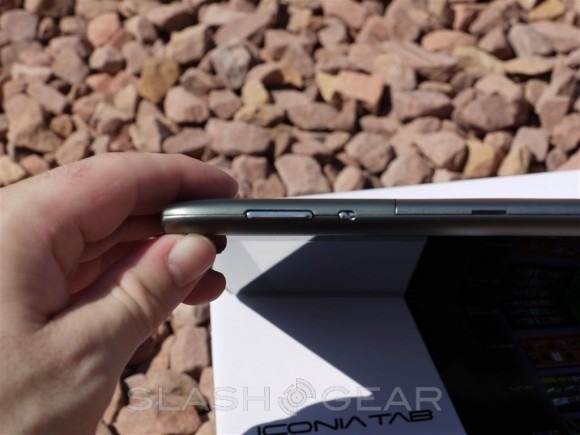 On the backside we have a well designed and sturdily built tablet with a brushed aluminum design. A nice chrome accented ACER logo, 5MP camera with LED flash and stereo speaker grills. Audio quality is loud and clear and was surprisingly better than most the tablets I've used thus far.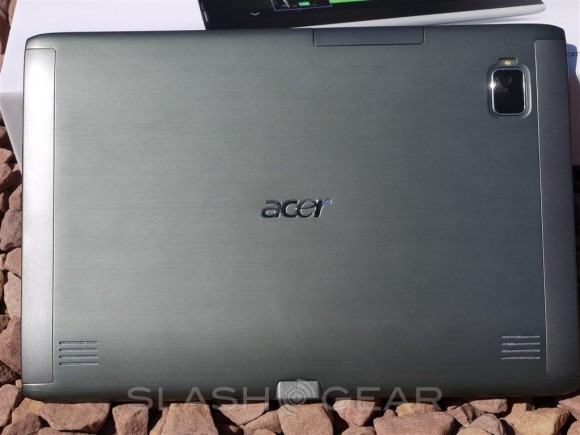 We know plenty about the hardware and the software but for even more details check out the full review of the original A500 as they are identical in that regard. Full review here
Software and Performance
On board we sadly only have Android 3.0.1 Honeycomb. I was hoping for an out of the box OTA update to Android 3.1 or even 3.2 like the brother A500 has received but we had no such luck here. Most likely Android 3.2 for the A501 is coming shortly but no direct details were available. Performance is snappy, fluid, and smooth although 3.2 would really help. We all should be plenty familiar with the performance of a Tegra 2 dual-core tablet as they all perform pretty similar at the moment.
Shown in the gallery above is the AT&T broadband settings as well as the H symbol in the icon tray. Sadly there is no 4G LTE here and while we wish there was, I didn't notice much difference during use compared to the Galaxy Tab 10.1 LTE version by Verizon. The speedtest results might be slower from AT&T but overall browsing wasn't an issue and kept right up.
For a look at the 4G performance I've done a few speedtest runs to see how the HSPA+ network handled on the ACER A501 and just as I expected it was about average for a 3G/4G network of around 3500 kbps down. The sad part was the upload speeds were severely low and some of the worst I've seen yet, this may impact video uploading and similar tasks for some but I myself didn't try. Basic overall performance of browsing, downloading and updating apps, and viewing YouTube videos was the biggest concern but the performance was stellar other than the occasion hiccup in connection.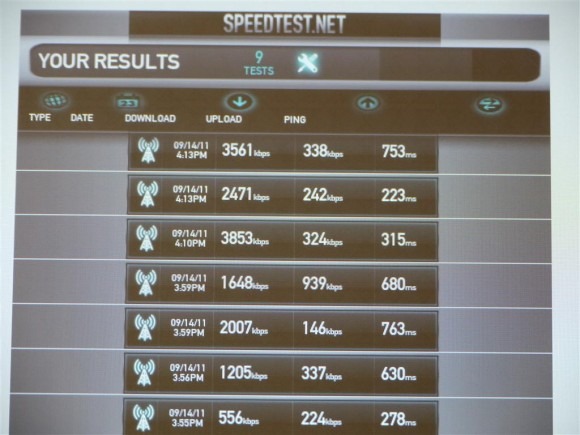 Benchmarks
As far as benchmarks the same rule applies here, we have the NVIDIA dual-core and performance should be close to many others although each manufacturer makes their own small changes. I've found the A500 and A501 from ACER perform quite well and seem to slightly outperform other Tegra 2 tablets available. I scored almost 2500 on my A501 completely stock. Here are a few benchmark results below for those interested.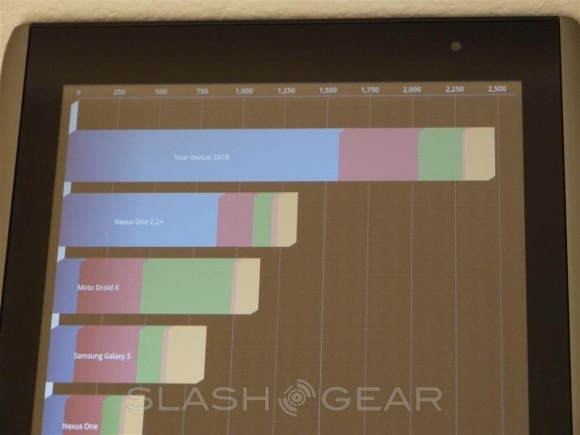 Vellamo tests overall device performance across a wide array of things. From Javascript, HTML, browser load times, network stress tests, scrolling and more based around browsing. The ACER A501 scored a bit low here and most tablets are slightly below the Galaxy Tab 10.1 but here we had a surprisingly low result. I ran it twice with similar results. Network held its own but rendering seemed to really suffer here.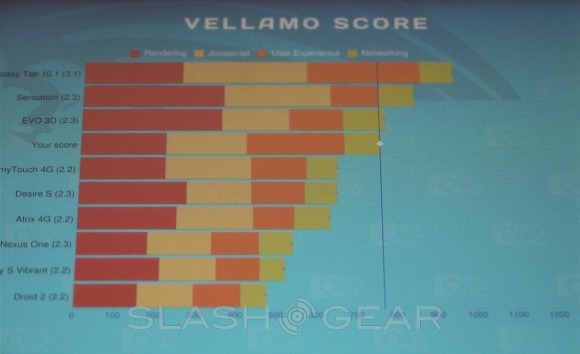 Battery Life and Camera
The ACER A501 features the same internals as the original and battery life seems about average for a tablet. I've played plenty of games over the past 12 or so hours, ran benchmarks and probably watched about 45 minutes of TRON streaming with the micro HDMI to my HDTV and I've still got a decent 47% remaining. It's been off and on so straight usage will be much lower but who uses their tablet for 7 hours straight anyways right?
We have a 5MP camera on the rear along with a large LED flash. The lens is capable of 720p video capture but it's nothing to write home about. Full 1080p would be preferred but for the odd moment you'd like to capture video with the A501, you'll be just fine.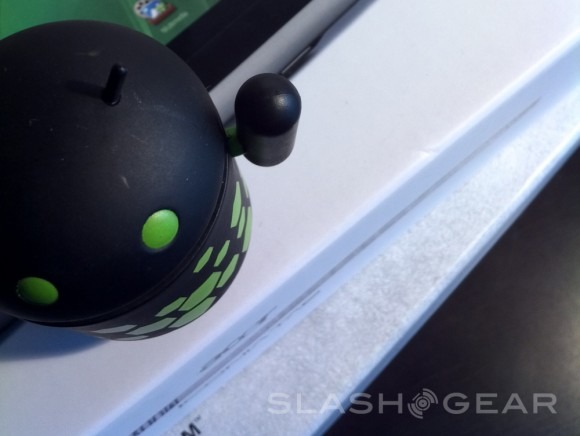 AT&T 4G HSPA+
Now this is not a 3G device, what we have is 4G although it's not LTE. Technically some might say 4G shouldn't be called that unless you have true 4G but honestly I don't feel it matters all that much what we call it — so long as it performs well enough and doesn't hinder our usage. While I'd love for this tablet to offer the amazing price and awesome specs and ports and come with 4G LTE, that just isn't the case and we'll have to make due with HPSA+ or buy the ridiculously overpriced HTC Jetstream.
Performance over 4G was a non issue. With a large network covering almost the entire U.S. you'll have zero problems finding coverage just about wherever you go. AT&T HSPA+ might not be everywhere but dropping down to 3G I still was able to stream video and do anything else I've needed this week. Occasionally I'd have a time-out with my network connection but it never lasted more than about 5-10 seconds and has only happened twice. the 4G is everything you'd expect and works just as you'd think — quick and stable.
Wrap-Up
Is this the tablet for you? Are you an ACER fan and just love the brushed aluminum design, or have you been waiting for a 3G/4G tablet that wont break the bank like the Xoom? While there is many tablets on the Android market that are thinner, prettier and even have 4G LTE the ACER Iconia Tab A501 is a complete package. ACER has spared nothing and offers outputs and connectivity, performance, portability and more all in a decently sleek package that is highly affordable. The ACER Iconia Tab A501 with AT&T 4G is priced at $329 with a new, two-year data agreement, or offered at $479 for the 16GB contract-free version. I don't know about you but the HTC Jetstream and it's $600+ price tag seems a bit much right about now.
Apple and the iPad may have a huge grasp on the tablet market but Android is continuing to grow and expand. Getting everything in one package here from ACER without buying add-ons and adapters makes this a win-win for someone looking for a cheap, yet powerful alternative. This bad boy is full of brushed aluminum and looks different from every other tablet, I doubt ACER will have to worry about silly lawsuits anytime soon.