Acer Iconia Tab 10 Android tablet flaunts Full HD display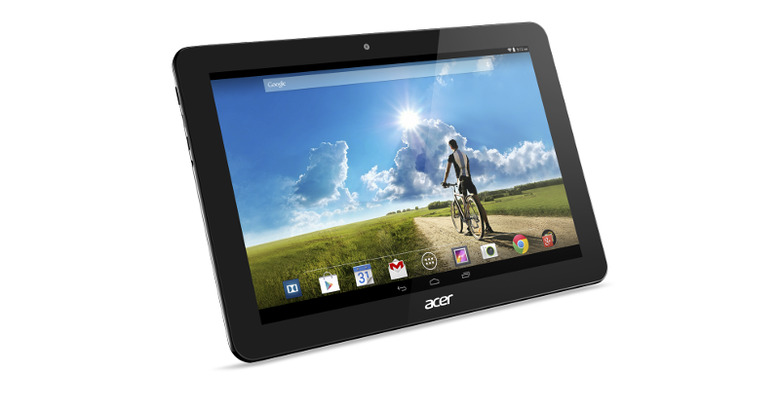 It's been a while since we've heard from Acer's budget Iconia Tab line and apparently the OEM has been busy. Although the company's affordable devices sometimes earn it the connotation of being cheap, whether deserved or not, this time it isn't holding back. At least too much. While the new Iconia Tab 10 does still fall under the category of budget tablet, Acer is at least giving it a worthy Full HD screen, which, with Zero Air Gap tech, makes it a rather worthy one for the price.
Zero Air Gap means that there is very little distance between the display module and the touch module. This helps make the device thinner overall, which helps make the Acer Iconia Tab 10 only 0.4 in (10.2 mm) thick. But more than that, it also lessens the effect of parallax, which is like a perceptible lag between your touch and its visual representation on screen, given the perception of a smooth flowing user experience. When paired with a WUXGA resolution of 1920x1200 pixels, that's not such a bad deal at all.
The tablet does run on a 1.5 GHz quad-core MediaTek processor, but the days where MediaTek's chips will be panned in terms of performance might soon be over. The Iconia Tab 10 does sport 2 GB of RAM and 32 GB of storage, plus 128 GB more via a microSD card. Wi-Fi and Bluetooth 4.0 make up your wireless connectivity, though LTE is not to be found anywhere. Sadly, Acer is only putting Android 4.4 KitKat.
Acer isn't skimping too much on multimedia either, with Wireless Display and HDMI for sending images to larger screen as well as Dolby technology for a surround sound experience. The tablet does have dual speakers, but those are located on the back, which, by the way, is has an aluminum rear cover to give it both protection and just as pinch of quality.
Despite those slightly upgraded specs, the Acer Iconia Tab 10, specifically the models in the A3-A20FHD family, still fetches low price tag, which is $249.99 in this case.
SOURCE: Acer