Acer has a strange Android gaming tablet in the work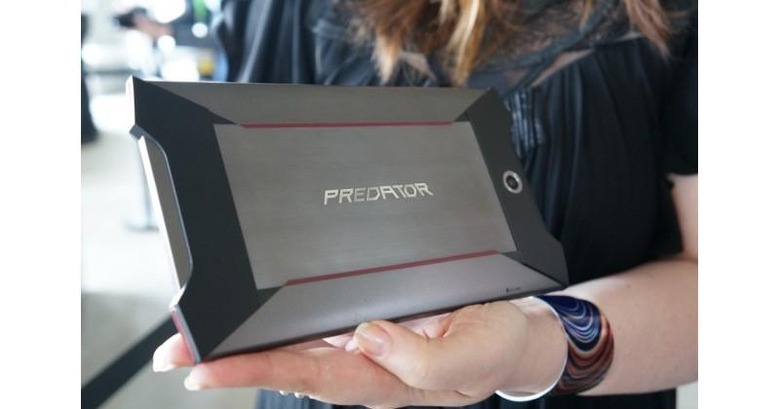 Practicing economy of words, space, and resources, Acer just dumped a bunch of device announcements all in one press conference, revealing a broad range of products from a Windows Phone, to a gaming monitor, to 2-in-1 tablets, to Android tablets. It seems, however, that the company has some other things up its sleeves not yet ready for an announcement, at least until the end of this year. Acer is surprisingly dipping its toes in a rather niche Android gaming tablet market tablet market that very few vendors occupy. And that's not without good reason.
Although Android gaming itself has a rather strong market, the same cannot be said for the very specific corner of gaming tablets. You can probably count on one hand the number of mainstream vendors supplying such devices. Archos' GamePad has seemingly stopped at only 2 iterations, though NVIDIA is still moving forward with its SHIELD Tablet. There are a few imitations and some tablets strong enough for serious mobile gaming, but very few really advertise themselves to be an "Android gaming tablet".
Acer's mystery device is obviously no Archos Gamepad, and it seems that, at least for now, its gaming nature is merely through association. In particular, the tablet bears the angular red and black design that Acer's Predator gaming PCs also have, looking more like a tablet with a sharp case more than a tablet that was really built to look like that. The design also seems purely cosmetic in purpose, utilized to fall in line with the Predator image.
Those red corner marks do, however, hide some treasures. There are actually four front-facing speakers here, one in each of those corners. It's a rather unusual setup that seems to haven been conceptualized to better blast game audio to your face. Other than that, there is little to known about this 8-inch tablet. We can only presume it should be rigged to be able to handle any resource intensive game we throw at it.
But it does spark the question of what does it really mean to be a gaming tablet. Archos outfitted its own device with physical controls, while NVIDIA more or less encouraged hooking up its tablet to a larger screen and a gamepad. It will be interesting to see what Acer has in mind, but we'll have to wait for Q4 this year to find out.
VIA: Engadget