This week at BETT, Acer revealed a pair of hardcore chromebooks for education customers. These devices are the first two 12-inch Chromebooks offered by Acer. One goes by the name Chromebook 512, the other goes by the name Chromebook Spin 512. Both devices are called "sturdy" and "safe for young students at school and home." Also one has a camera on its bottom.
Both devices are compliant with U.S. Military Standard (MIL-STD 810G) as well as two toy safety standards: ASTM F963-16 and UL/IED 60950-1. The MIL-STD means they've been "tested by qualified 3rd party labs for certain tests procedure under MIL-STD 810G (Oct 2008) for environmental conditions that include high and low temperatures, humidity, vibrations, mechanical shocks on drops, rain, dust and sand." They're rough and tough for real.
Above you'll see the Chromebook 512, below you'll see the Chromebook 512 Spin, both from Acer. Both of these devices have the same (or a very, very similar) display panel, while the protective glass up front is different, and the tech behind the Spin is different too (for the stylus).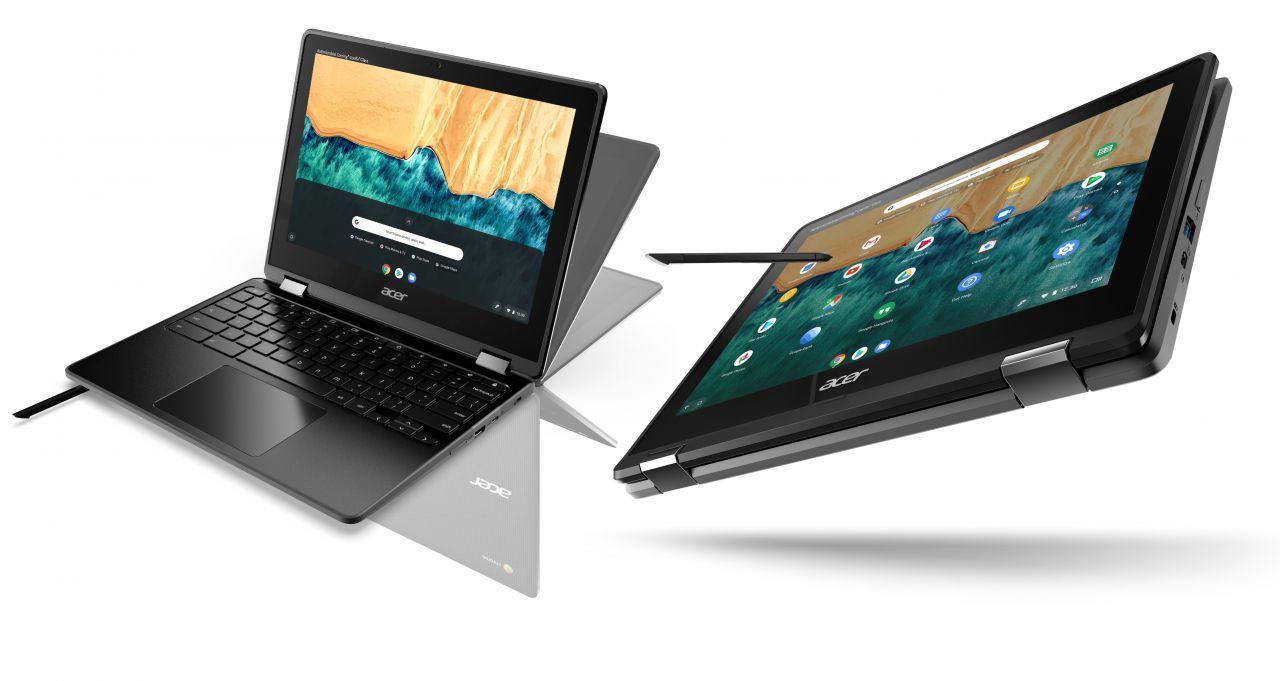 Both devices feature a 12-inch HD+ display with 1366 x 912 resolution and IPS LCD technology. They're both running 3:2 aspect ratio panels, and the Spin model has an anti-microbial Corning Gorilla Glass panel to keep it extra safe from harm. The Spin also has a 360-degree set of hinges, as the name implies – allowing the device to be used in multiple ways.
Both models come in handsome casings – nothing particularly flashy – just down to business. We're talking USB-C and USB-A on both sides of both models, and Kensington Lock compatibility, too. The Spin model has a docking stylus too – that's an Acer Active Pen, powered by Wacom EMR technology, with pen force at 4096 levels.
The Chromebook Spin 512 will have an MSRP starting at $449.99 and the Chromebook 512 has a starting price of $329.99. It would appear that both of these models will become available "to commercial customers" in North America starting in April.