Acer AspireRevo AR3700 nettop packs Atom D525 and NVIDIA Ion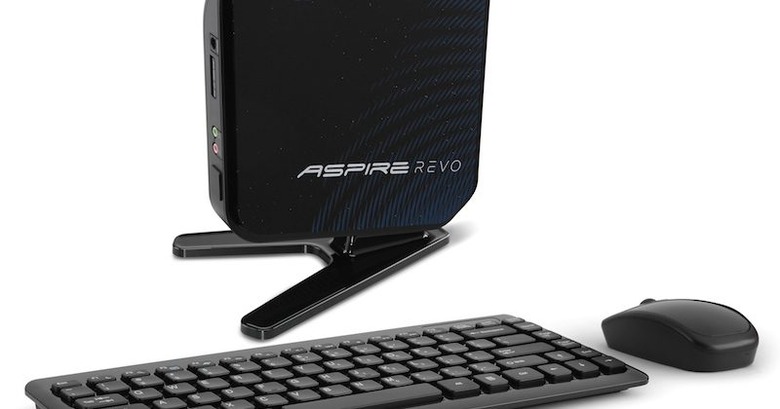 Acer has updated its AspireRevo nettop in the shape of the new AR3700 model, throwing in Intel's latest dual-core Atom D525 processor that, as before, is paired with NVIDIA Ion graphics.  There's also 2GB of DDR3 memory and a 250GB drive, plus an HDMI port for outputting up to 1080p HD.
There's also a copy of Windows 7, a multi-format memory card reader and six USB 2.0 ports, along with audio in/out, WiFi b/g/n and a wireless keyboard and mouse.  As with its predecessor, the AspireRevo AR3700 can be VESA mounted to the back of an HDTV or monitor, making for a discrete HTPC or casual gaming PC.
The previous-gen AspireRevo was criticized for its underwhelming general performance which, in apps that didn't take advantage of the reasonably potent GPU, was on a bar with basic netbooks.  Hopefully the updated dual-core Atom will help this $349.99 nettop be a better all-rounder.
Press Release:
New Acer AspireRevo Nettop – A Svelte and Strong Performer

Popular for packing power and features in a small footprint, AspireRevo gets a new ID and dual-core processing

IRVINE, Calif., Sept. 28, 2010 – Acer has made its popular, highly adaptable nettop and entertainment center for the home even more appealing. The AspireRevo AR3700 is sporting a new look and faster performance. Available today at leading technology retailers for $349.99, this sleek one-liter nettop now comes in a handsome dark blue chassis and a faster dual-core processor.

About the size of a book, AspireRevo can be mounted on a small foot stand or easily hidden from view by attaching it to the back of a television or LCD with a VESA mounting system. Although compact, the combination of an Intel® Atom™ D525 dual-core processor, Windows 7 Home Premium and discrete NVIDIA® ION™ graphics provides ample muscle for taking on casual games, playback of 1080p HD movies and digital photo editing.

It keeps a low profile not only through its small footprint, but quiet operation. The low power processor and optimized component placement reduce system noise, making this nettop ideally suited for the living room or bedroom.

"The AspireRevo AR3700 is an excellent pick for consumers desiring an affordable device for enjoying digital media that won't take up much space and will integrate well with the home entertainment center," said Steve Smith, senior business manager of consumer desktops for Acer America. "When you consider the flexibility in mounting options, quiet operation and performance for the price, you'll be hard pressed to find a more practical secondary computer for the home."

Outfitted with plenty of features, the AspireRevo boasts 2GB DDR3 SDRAM for efficient multitasking, high-definition audio support for dynamic sound quality and a 250GB SATA hard drive(1) for storing and organizing digital entertainment and productivity files. A multi-in-one media card reader quickly and easily transfers files from digital cameras, smartphones and other devices to the PC and an HDMI port provides connection to compatible digital audio devices, computer monitors and digital TVs. The system also includes six USB 2.0 ports, microphone jacks, 802.11 b/g/n and a wireless keyboard and mouse.

Environmentally-conscious users will appreciate the screw-free design and small size that minimize system and packing materials. The ultra-low-consumption processor also saves power and enables the system to meet Energy Star® guidelines.

The Acer® AspireRevo AR3700-U3002 nettop is available in the U.S. via leading online technology retailers for $349.99.