Acer AspireRevo now available for $199.99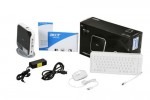 The Acer AspireRevo AR1600-U910H nettop is one of those slick little systems that offers all the performance you need for general computing needs in a tiny form factor that is easy to hide inside your entertainment system or on a desk. The little machine is now available for purchase on Newegg.
The AspireRevo is available now for $199.99. The specs of the AspireRevo are well known and include an Intel Atom 230 CPU at 1.6GHz, 1GB of DDR2, and a 160GB HDD. The big feature of the machine is the NVIDIA Ion LE GPU.
That Ion tech crammed inside will allow the small system to support HD video and give it all the performance it needs to act like a fully-fledged HTPC machine. The nettop also ships with a mouse and keyboard for the price. The OS is Windows XP Home