Acer Aspire X3400-U2012 SFF PC Review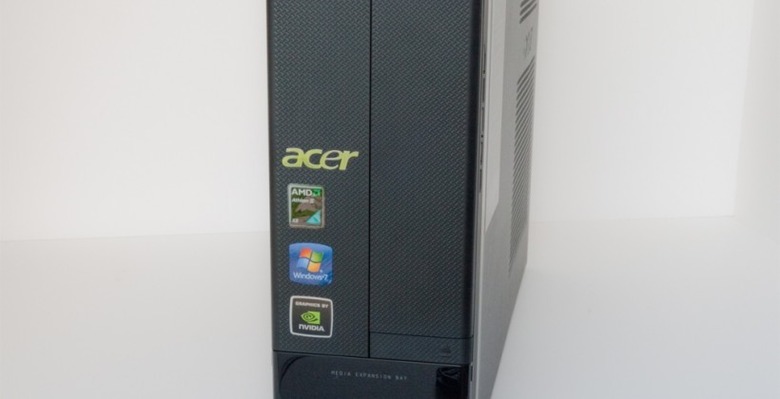 It's a tough world for a consumer desktop PC. Laptops have stolen all the glamour; you need to offer something special if you're going to stand out among the rank and file of stationary computing. Acer's Aspire X3400-U2012 may not be a true portable PC but, with a small-form-factor (SFF) chassis paired with desktop components does the grunt-for-the-footprint balance make it a sensible buy? Check out the SlashGear review after the cut.
There's a little of the Lenovo in the Aspire X3400's design, a solid black mini-tower (standing 10.5-inches high) with a minor splash of blue the only attempt to brighten things. Up front there's a DVD burner, five USB 2.0 ports, a multi-format memory card reader and audio in/out; at the back there are a further four USB 2.0 ports, both HDMI and VGA, gigabit ethernet, audio in/out (with 5.1-channel support), an eSATA port, PS/2 ports for legacy keyboard and mouse (Acer's supplied peripherals are both USB, and of reasonable quality if not anything outstanding) and of course power. Build quality is decent, with a pleasant mixture of gloss and matte black plastics.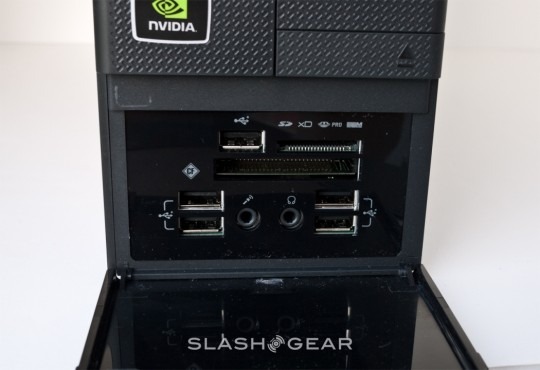 Inside there's a 2.9GHz AMD Athlon II X3 435 processor paired with 4GB of DDR3 memory and integrated NVIDIA GeForce 9200 graphics with a 500GB hard-drive, though no integrated Bluetooth and WiFi. Acer offer a 2.9GHz X4 635 processor and up to 1TB of storage as options, while the Aspire X3400 can handle up to 8GB of DDR3 memory. Of course, because of the small size there are no free drive bays inside: the optical drive takes up the 5.25-inch bay and the HDD occupies the 3.5-inch bay.
[sgbenchmark id=102 show=system]
Software is Windows 7 Home Premium, complete with a basic array of Acer's own applications. Probably of most interest to the HTPC aficionados likely to be eyeing the Aspire X3400 is the eRecovery Management app, which automatically makes backups of your multimedia store. There's also the usual trial of Office Home & Student 2007 (together with a full copy of Works 8.5), a trial of McAfee, Google's Toolbar and Nero 9 Essentials.
We benchmark tested the Acer Aspire X3400-U2012 using Geekbench, a synthetic test of processor and memory performance. It scored a reasonable 5,108, primarily thanks to a strong showing by the processor. In comparison, Gateway's ZX6900 – which uses a 2.93GHz Intel Core i3-530 with 4GB of RAM – scored slightly higher, at 5,313. Acer's own all-in-one, the Aspire Z5600, scored 5,475 with Intel's 2.33GHz Core 2 Quad Q8200 and 4GB of RAM.
[sgbenchmark id=102 show=score]
The Aspire X3400's integrated GeForce 9200 graphics are certainly showing their age, and this isn't the GPU for you if you're hoping to do any serious gaming. While it may run titles like Crysis it's at their very minimum settings, and you'll still see dropped frames. Instead, think of the Aspire X3400 as a home multimedia PC, perfectly sized to slot under your TV, hook up via HDMI (with HDCP support) and act as a media player. On those terms its capabilities are far more adequate; Windows 7 Home Premium includes native media PC features, though you'll need to add a USB TV tuner if you want to record/pause broadcast TV. It's a shame Acer didn't throw a remote control in the box (or at least wireless keyboard/mouse peripherals).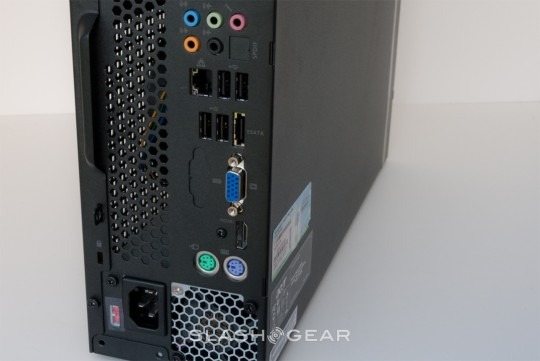 In use, the Acer runs reasonably quietly – there's some fan noise which may be noticeable during quiet media playback, but nothing extreme – and shows little in the way of lag. We happily browsed several internet tabs with media playing in the background and the Aspire X3400 had no problem keeping up with us. Paired with a sizeable NAS it would certainly work well as an HTPC.
We'd like to see a bigger hard-drive as standard, and obviously the GPU falls short of anything a semi-serious gamer might be looking for, but considering the $459.99 MRSP there's plenty to like about the Acer Aspire X3400-U2012. Solid – if not outstanding – performance together with an admirably small footprint and lashings of connectivity add up to a strong contender for your living room or home office.