Acer Aspire X1700 SFF desktop PC & H233H 23-inch LCD launch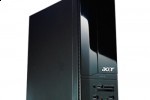 Acer have announced a new small-form-factor PC, the Aspire X1700, offering a 2.4GHz Intel Pentium Dual-Core E2200 CPU, 4GB of DDR2 RAM and a 640GB 7,200rpm hard-drive.  The X1700 measures just 10.4 x  4  14.4 inches but still manages to include NVIDIA GeForce G100 graphics and GeForce 7100 chipset, a dual-layer DVD burner, multi-format card reader and a full nine USB 2.0 ports.
Other specs include an eSATA port, for plugging in high-speed external storage, an HDMI port, and bundled USB speakers, keyboard and mouse.  Acer are positioning the Aspire X1700 as a home media PC, whether that involve playing back high-definition content on an attached HDTV, or burning DVDs.
The Acer Aspire X1700 should be available now, priced at $479.99.  Acer are also launching a new, 23-inch display – the Acer H233H – with 1,920 x 1,080 resolution, 5ms response time, 40,000:1 contrast ratio and 300 nits of brightness.  It also includes integrated 1.5W stereo speakers, touch-sensitive and LED illuminated controls, and a choice of VGA, HDMI or DVI inputs.  The Acer H233H display is also available now, priced at $229.99.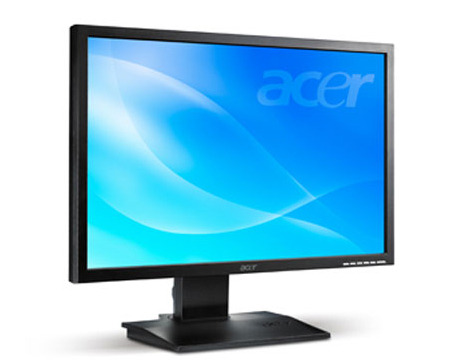 Press Release:
ACER INTRODUCES SLEEK 23-INCH DISPLAY WITH SENSOR TOUCH; ENHANCES DESKTOP LINE

New Display Features 16:9 Aspect Ratio, Glossy Bezel and Speakers;

Desktops Range from a Pentium-Powered Small Form Factor to Radical

Gaming Rig

SAN JOSE, CALIF., Jan. 19, 2009 – Acer, the third largest vendor in

the PC market,(1) today announced the slick new Acer 23-inch

widescreen display and Acer Aspire desktop PC line-up for customers in

the United States. The Aspire desktops range from several compact

models to an aggressively designed, power-packed gaming system.

Featuring a new form factor, the Acer H233H bmid 23-inch display

offers cinematic quality with sleek styling. This new display provides

excellent picture quality, boasting a 16:9 aspect ratio for maximum HD

support, a high contrast ratio and fast response time. The glossy

black bezel adds an extra design element that looks attractive in any

home or office.

The desktop PC line features the compact, yet powerful Acer(R) Aspire

X3200, X1700 and X1200 small form factor (SFF) PCs outfitted with 3 to

4GB of memory. The newest member is the Aspire X1700, which boasts an

Intel(R) Pentium(R) Dual-Core processor and 4GB DDR2 memory, for

extremely fast system response.

"The new 23-inch display offers users the best HD support available

with a sleek new form factor and advanced features, making it ideal

for a variety of viewing needs," said Stephanie Eggert, Senior

Manager, Retail Desktop Product Planning for Acer America. "Boasting

NVIDIA(R) GeForce(R) G100 graphics with DirectX 10 support, the new

Aspire X1700 delivers stunning performance in a compact chassis. The

powerful processor and graphics combination on our SFF desktops and

Predator gaming PCs infuse games, movies and photos with rich,

lifelike images."

Sleek Display Provides Cinematic Quality for Entertaining and Productivity

Combining form and function, the Acer H233H bmid 23-inch widescreen

high-definition LCD display offers consumers superb high-definition

picture quality in a sleek design.

The display also features SensorTouch technology, a touch-sensing

solution with effortless settings for one-touch convenience. The LED

illuminated controls replace the buttons that are standard on many

displays. These intuitive controls maintain the product's streamlined

look, while automatically sensing contact with the lightest touch.

Whether playing games, watching movies, creating digital content or

working, the Acer H233H bmid provides excellent visual quality. It

delivers the maximum level of HD support with a 16:9 aspect ratio and

a 1920x1080 resolution, making it ideal for viewing the latest

high-definition video, movies and digital content.

To further enhance visual performance, the Acer H233H features a

40,000:1 contrast ratio, 300 cd/m2 brightness and a 5ms response time.

It also offers 160-degree horizontal and vertical viewing angles for

an improved viewing experience. Additionally, the display supports VGA

and HDMI as well as DVI (with High-bandwidth Digital Content

Protection) for viewing digital movies, digital photos, PC files and

copy protected content.

To boost the visual experience of movies and games, the Acer H233H

bmid also comes with two premium speakers for high-performance sound.

Feature Rich, Compact Desktops

For ease and practicality, the Aspire X1200, X1700 and X3200 SFF

desktops as well as the Aspire Predator gaming PC are designed with

the card reader, audio jacks and ports located conveniently on the

front of the chassis to provide easy access. The Aspire X1200, X1700

and X3200 towers measure just 10.4-inches (H) x 4-inches (W) x

14.4-inches (L).

Newest Model: Aspire X1700 – Power-Packed SFF

Packed with power and performance, the newest model in the line, the

Aspire X1700 features an Intel(R) Pentium(R) Dual Core Processor

E2200, which enables users to enjoy crystal-clear digital media,

create advanced graphics, and handle productivity tasks with ease and

speed. The 4GB DDR2 memory provides ultra-fast system response,

critical for multitasking and power hungry applications. Integrated

NVIDIA(R) GeForce(R) graphics enhance multimedia performance with

support for the latest DirectX games. Connect directly to an external

LCD or flat-screen TV with HDMI for crisp, high-quality visuals and

high-fidelity audio using only one cable.

With nine USB 2.0 ports and a multi-in-one card reader, users can

easily bring multimedia devices together. The huge 640GB SATA II hard

drive (2) provides enough room to store a vast library of music,

movies and games. Watch movies and burn DVDs and CDs with the

SuperMulti Drive. With Labelflash(TM) technology, personalize CDs by

laser burning unique, high-resolution transparent images directly on

the label side of discs right after they're burned.

Specifications, Pricing and Availability

Acer's newest display and Aspire desktop PCs are available at

technology and electronics retailers. The display is available for

$299.99 and the Aspire desktop PCs prices start at $409.99.

Acer(R) H233H bmid 23-inch LCD display: Available now for a MSRP of $229.99

• 23-inch Widescreen

• 0.265mm Pixel Pitch

• 1920x1080 (Native and Maximum) Resolution

• 75Hz (Maximum) Refresh Rate

• 5ms Response Time

• 40000:1 Max (ACM) Contrast Ratio

• 300cd/m2 Brightness

• 160° (H)/160° (V) Viewing Angles

• 16.7 Million Colors

• 6 + Hi-FRC Bits

• 1x HDMI, 1x DVI (HDCP), 1x VGA Inputs

• (2) 1.5 W Speakers

• Vesa 100MM Wall Mount

• Internal Power Supply

• Energy Star Compliant

Acer(R) Aspire X1700-U3700A: Available now for a MSRP of $479.99

• Intel(R) Pentium(R) Dual-Core Processor E2200 (2.4GHz, 1MB L2

Cache, 800MHz FSB)

• Windows Vista(R) Home Premium 64-Bit with SP1

• 4096MB DDR2 Memory

• NVIDIA(R) GeForce(R) 7100 Chipset and nForce(R) 630i

• Integrated NVIDIA(R) GeForce(R) G100 with 512MB Discrete Graphic Card

• 640GB SATA 7200RPM Hard Drive (2)

• Super Multi Double-Layer DVD+RW, DVD-RAM Drive Featuring

Labelflash(TM) Technology

• 14-in-One Digital Media Card Reader

• 9 USB 2.0 Ports (5 Front, 4 Rear)

• HDMI Port

• eSATA Port

• Amplified Stereo Speakers (USB Powered)

• Acer USB Keyboard

• USB Optical Mouse