Acer Aspire U27 AiO and Switch 5 2-in-1 feature a liquid cooling system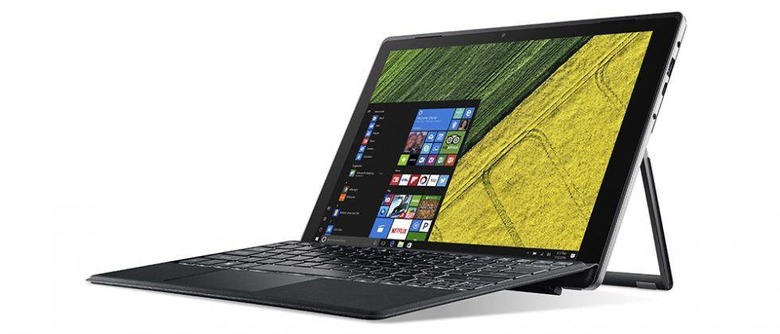 Among the gear Acer unveiled today comes a pair of computing products notable for how they're kept cool. The Acer Aspire U27 all-in-one desktop PC and the 2-in-1 convertible Switch 5 are both equipped with LiquidLoop, a liquid cooling system. The Switch 5 is Acer's first 2-in-1 laptop that features its LiquidLoop offering; it, as with the Aspire all-in-one, are ultra-quiet thanks to the elimination of the cooling fan.
Switch 5
The Acer Switch 5 features Windows 10 and a kickstand-based design that enables the machine to function as both a tablet and a laptop. This tablet — and the Switch 3 joining it — features an Acer Active Pen stylus for taking notes, drawing and more. The Switch 5 likewise features up to a 7th-generation Intel Core i7 processor.
This model is unique thanks to its auto-retracting kickstand, which enables users to adjust it using a single hand. Other features include a fingerprint reader for biometric security and Windows Hello support. The Switch 3 features a 12.5-inch display and the Switch 5 features a 12-inch display with a FHD+ resolution. Both models will be available in North America starting in June for $399 and $799, respectively.
Aspire U27 AiO
If you like the idea of a liquid-cooled device but not a 2-in-1 style, Acer is also offering the new Aspire U27 all-in-one PC. This is Acer's first AiO model to feature the LiquidLoop cooling technology, allowing it to operate silently in the absence of a fan. In addition to that system, the U27 has a 27-inch Full HD display, a subwoofer for bass-heavy audio, and 7th-gen Intel Core processor. Users will also enjoy security via Windows Hello thanks to the camera and facial recognition.
The U27 will be available in North America starting in July for $1,099 USD.