Acer Aspire Switch 11 review: the best of both worlds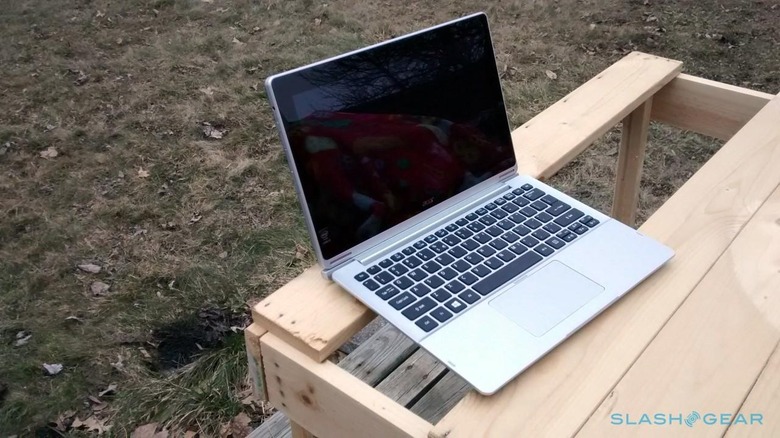 Acer is back with another convertible PC: the Acer Aspire Switch 11. As with this machine's previous iteration, the Aspire Switch 11 is both a tablet and a laptop, being whichever you'd like it to be in any given moment. This is nothing new, but these type of machines can often miss the mark when it comes to usability. Such isn't the case with the Switch 11 — though a bit on the thick side, this convertible PC works wonderfully as a laptop and even better as a tablet. Will it meet your needs? Read our full review to find out!
Hardware
The Acer Aspire Switch 11 is composed of two pieces: the display, which is a tablet and is where most of the hardware lies, and the keyboard, which snaps into the tablet for those times you need a laptop. The keyboard features a proper hinge akin to what you get with a ClamCase, something that is sorely lacking among convertible PCs — too many still come with without a hinge, making them only effective when used on a flat surface. When the Switch 11 is in laptop mode, you can use it anywhere you'd normally use a laptop, whether that's on a proper desk or in the recliner while propped up on your knee.
Because the tablet portion holds the hardware, the display is naturally heavier than the keyboard portion — something that also commonly causes problems when it comes to convertible PCs. The hinge is strong enough to hold the display in place with the Switch 11, however, and the heavy weight only becomes a problem when the display is positioned nearly fully open. If your wrists are resting on the keyboard, however, that becomes a non-issue. All of this is complemented by a very sleek and attractive metallic design.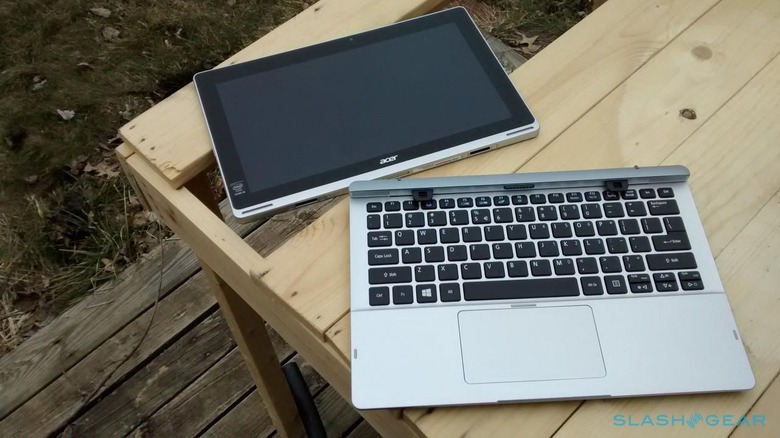 There are different hardware configurations available, with the cheapest one featuring an Intel Atom Z3745 quad-core 1.3GHz processor and being priced at $349.99 USD and the most expensive model ($799.99 USD) featuring an Intel Core i5 4202Y dual-core 1.6GHz processor. Memory and storage capacity varies, but they all feature an 11.6-inch display (resolution ranges from 1366 x 768 to Full HD), as well as Windows 8.1. The version we got our hands on is the highest-end model, featuring the aforementioned Core i5 processor, 4GB of RAM, and Windows 8.1 Pro 64-bit.
With this, users get a micro SD card slot, multi-touch support, Intel HD Graphics 4200, Bluetooth 4.0, 802.11a/b/g/n Wi-Fi, a single USB 3.0 port, integrated microphone, 3-cell 2850mAh battery, and overall weight of 3.42lbs. The tablet simply slides onto the keyboard's hinge (it doesn't lock in place, but is sturdy), and slides back off when pulled.
Software and Performance
Performance is excellent when compared to other similar convertible PCs running similar hardware, though your experiences will largely depend on which hardware configuration you choose — obviously, choosing the lowest-end model might present some performance issues if you try to push it too hard. As far as the highest-end model goes, however, you'll not run into any issues when multi-tasking or streaming, among other common computing activities.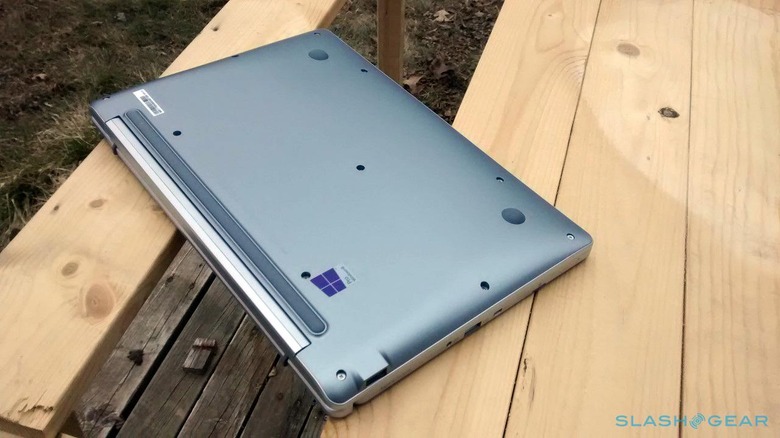 As far as benchmarks go, the results are what you'd expect given the hardware — not blazing fast, but certainly not poor either, and more than substantial enough for the kind of business or schoolwork one might use the machine for, or even modest gaming if you're looking for a way to play while on the go.
Conclusion
Acer has a winner with its new Aspire Switch 11. This laptop is attractive to behold, and the screen quality is excellent. Both of these are coupled with a solid design allowing the machine to be the best of both worlds — when using it as a laptop, you'd hardly realize it's really a tablet attached to a keyboard. And when used as a tablet, it stands out among many Windows slates with thanks, again, to its design.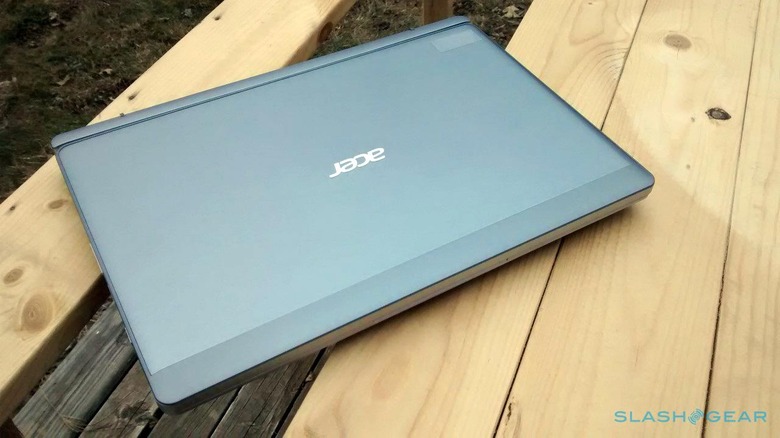 The machine's only downside is its thickness (1-inch), which is in no way burdensome but is bigger than the ultrabooks dotting the PC landscape. If you're in need of a convertible PC that is actually useful when in "laptop mode", you'll find the Aspire Switch 11 an excellent option.