Acer Aspire S24 slimline AIO still finds space for wireless charging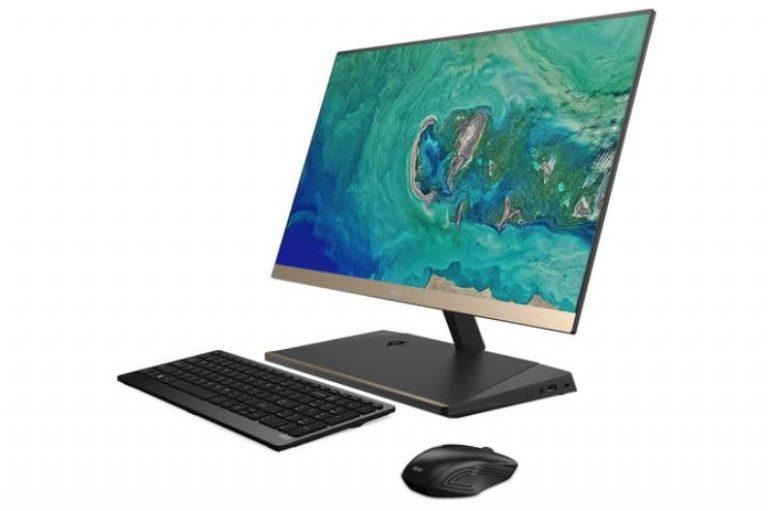 Acer has a new all-in-one PC it's introducing to the world today, and while this is a fairly standard mid-range machine in many regards, there are two features that make for interesting points of focus. One thing that's immediately obvious about the Apsire S24 will be its size – this is one thin PC, with Acer saying that it's the slimmest all-in-one it's ever produced. If you've been wanting a sleek PC, then, Acer would have you look no further.
Acer says the Asprie S24 features a side profile of just 0.235-inches. The bezel around the 23.8-inch display is similarly slim, clocking in at 0.106-inches. That gives the PC a 90% screen-to-body ratio, while the fact that it's an IPS display grants it viewing angles with accurate colors of up to 178-degrees.
One look at the specifications list is all you need to know that this is a mid-range machine, though you probably could have guessed that with the focus on thinness. The Aspire S24 comes packing an Intel Core i5-8250U and 12GB of RAM in the base model, though you can bump that up to 32GB if you choose. The display is a fairly standard 1080p panel without touch support, while storage clocks in at 1TB. Your GPU options, as you might have already suspected, are limited to Intel integrated graphics.
While the Aspire S24's form factor is certainly intended to be the main draw, another cool feature is that the base sports Qi wireless charging. Any Qi-compatible device you may have (such as your phone) can be charged just by setting it on the base, allowing you to free up some desk space at your workstation. Wireless charging may not be a system seller necessarily, but it's definitely a nice feature to have along for the ride.
The Aspire S24 has a price tag to match its mid-range internals, starting at $879.99 and going up from there depending on which options you select at checkout. Though Acer's announcement says that the S24 will be available sometime "this month," the computer already seems to be available from Acer's website, so go have a look for yourself.