Acer Aspire S24 hands-on: 5 things to know
Acer's Aspire S24 wants to upset the apple cart, and prove that it's not only Cupertino that can design a good looking all-in-one. Launching today, the Aspire S24 combines waifs dimensions with legitimately useful features rivals haven't even started to offer, including a way to recharge your smartphone cable-free. Read on for what you need to know.
It's one of a few beautiful PCs on the market
It's fair to say that most PCs aren't designed with elegant aesthetics in mind. Happily, Acer's Aspire S24 is of a different breed, and it has the design awards to demonstrate it. The 23.8-inch panel is surrounded by mere 0.106-inch bezels, for what Acer says is a 90-percent screen-to-body ratio.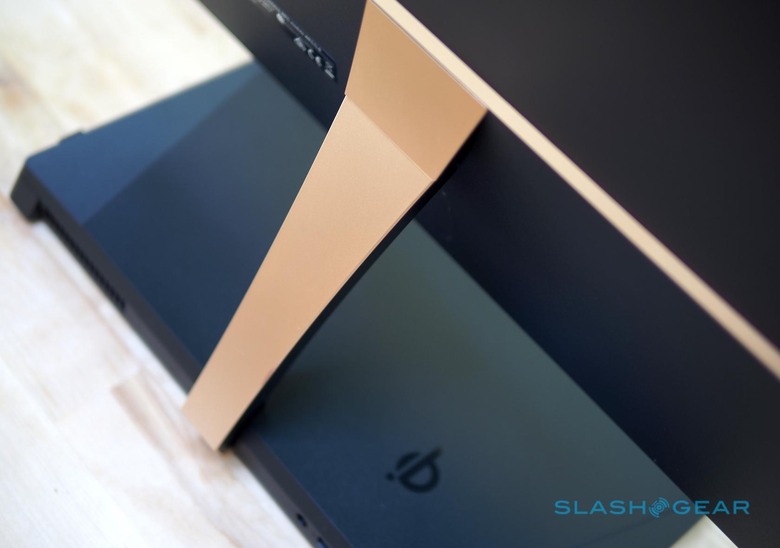 Meanwhile, the display is just 0.235-inches thick. There's hardly enough space for the integrated webcam, but Acer still found a way to fit it in. The screen can be tilted between -5 and 25 degrees, though not raised or rotated, on its single arm. Acer's matte gold accent color is pleasingly different from the brushed aluminum that Apple has made so popular.
If there's a downside, it's with the bundled peripherals. Acer includes a wireless keyboard and mouse in the box, but they feel cheap and plasticky. Hardly up to the quality of the AIO itself, in fact.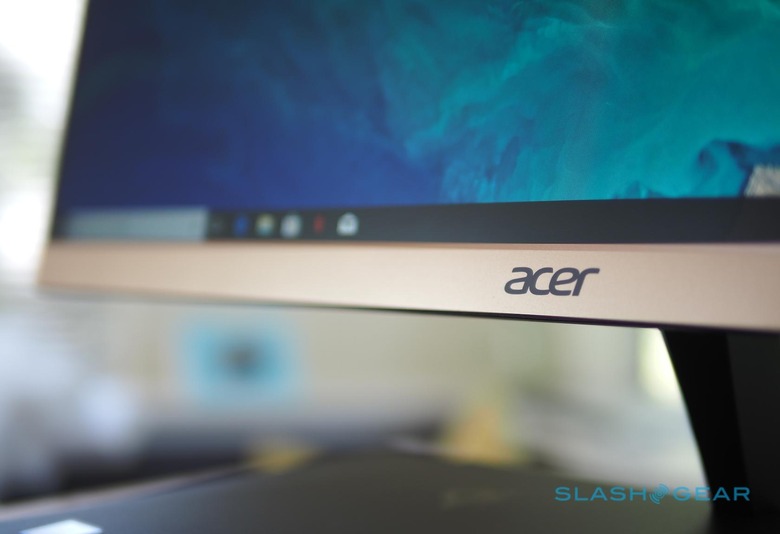 There's a surprise in the base
Acer's promise is that you won't need to devote too much desk space to the Aspire S24's compact footprint, and indeed its 13.5 x 7.5 inch base is smaller than most laptops. However, it offers even more in return for its real-estate. Drop your phone on the base, and it'll wirelessly recharge.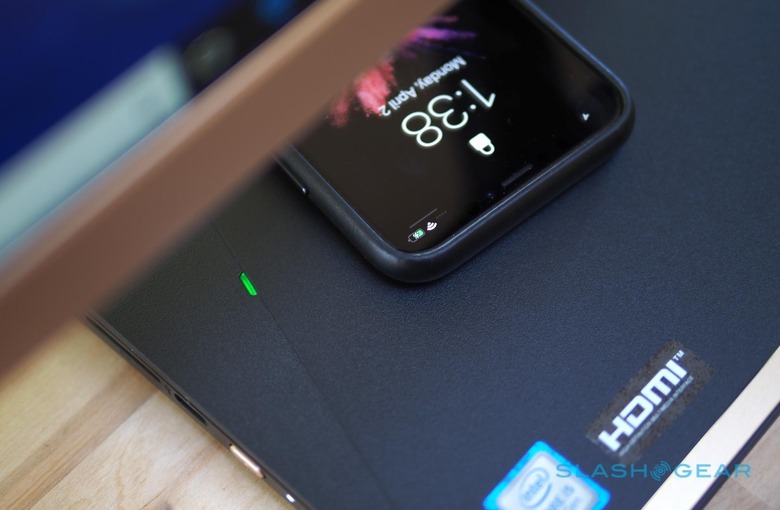 Acer uses the Qi standard, which means it's compatible with just about everything from your iPhone X through to your Galaxy S9. There's a discreet Qi logo molded into the black plastic: sit the phone on top, and as long as you have it lined up properly a green light will start blinking to let you know you're charging. If there's a complaint it's that the location is pushed a little far back: it can be tricky to see the phone's screen while it's lying flat, I've found, as the bottom edge of the display blocks it.
This is no powerhouse
Make no mistake, though, the Aspire S24 is no iMac Pro competitor. Indeed, you'll probably want to think again if you were considering it in the same category as a regular iMac. In its first configuration, Acer clearly had to balance aesthetic demands against just what it could squeeze inside.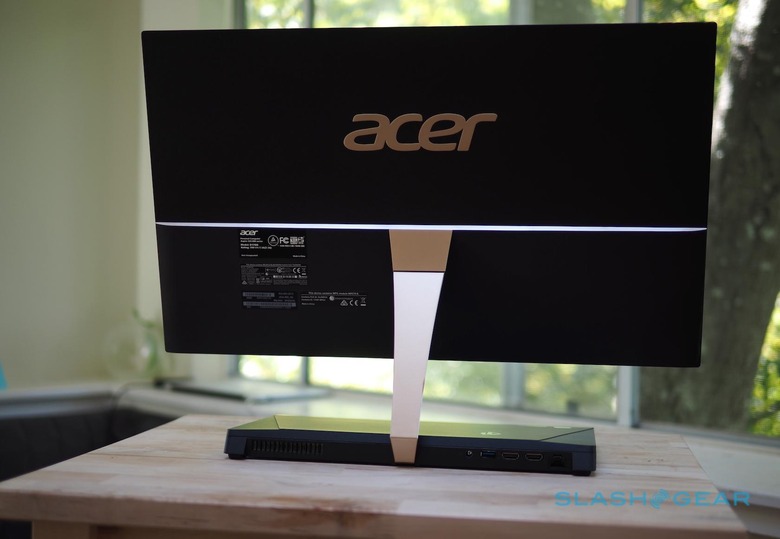 So, you get an 8th generation Core i5-8250U processor, one of Intel's power efficient quad-cores that's based on Kaby Lake. It's intended for slimline notebooks and Ultrabooks with power-sipping frugality, as is the graphics. Intel's UHD 620 GPU isn't going to be doing any gaming, nor will you be having much fun if your day involves video editing.
Acer does at least pair it with a healthy 12GB of DDR4 memory, which is welcome. The 1TB of storage is pleasant, too, though it's a 5,200rpm HDD rather than a faster SSD. That seems a little miserly.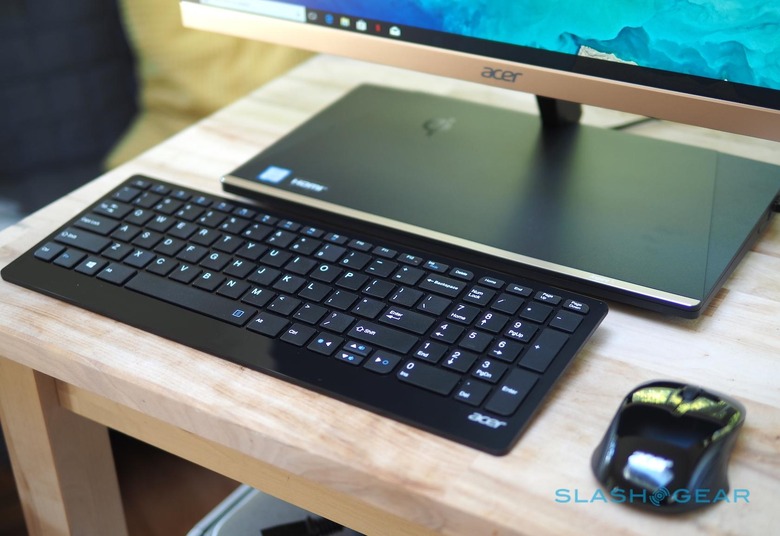 For many, though, the big limit will be the screen. For a start it's 1920 x 1080 Full HD resolution, not 4K; it also lacks touch support, which feels odd given the direction most Windows PCs are headed in. Acer adds not only an HDMI output but an HDMI input, too, in case you want to use the Aspire S24 as an external display for your laptop, though the limited resolution does sap some of the usefulness. At least it's a bright, colorful panel with excellent viewing angles.
Connectivity blows an Ultrabook out of the water
Acer's Aspire S24 may have the heart of an Ultrabook, but there are plenty more ports than you'd expect to find on the typical slimline notebook. Along with the HDMI input and HDMI output, there's a gigabit ethernet port. Acer includes 802.11ac WiFi and Bluetooth 4.2 inside as well.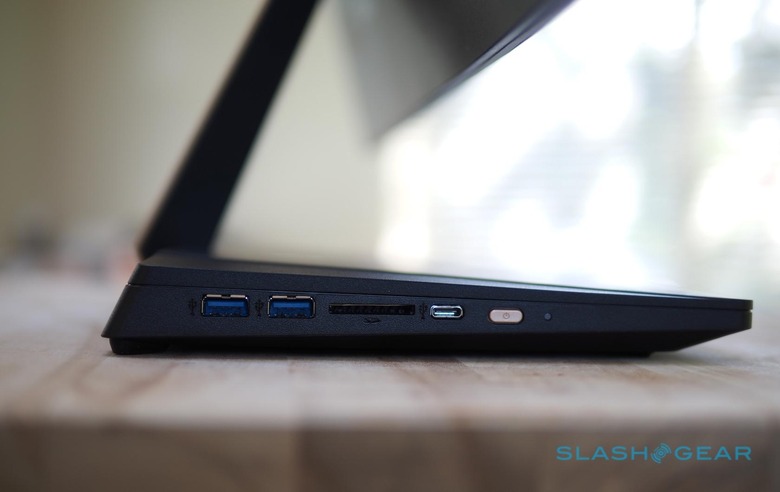 Three USB 3.1 Type-A ports are included, two on the left side and one on the rear. There's also a full-sized SD card reader, also conveniently located on the side. A USB 2.0 port is pre-plugged with the wireless receiver dongle for the keyboard and mouse; of course, if you swap those for Bluetooth peripherals, you can use the USB for something else. You get a 3.5mm headphones jack, too.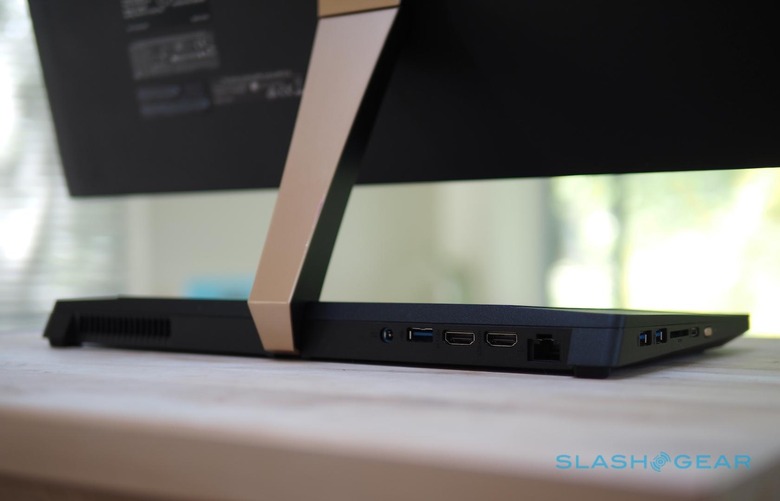 Finally, there's a USB-C 3.1 Type-C port. That's good to see, but unfortunately my hopes that it might turn the Aspire S24 into an all-in-one docking station for a recent MacBook or other notebook were dashed. The port was up to the challenge of charging a 15-inch MacBook Pro, but I couldn't use the Acer as a display for the Mac, or indeed access anything plugged into its USB ports. That seems like a missed opportunity.
Acer includes plenty for the price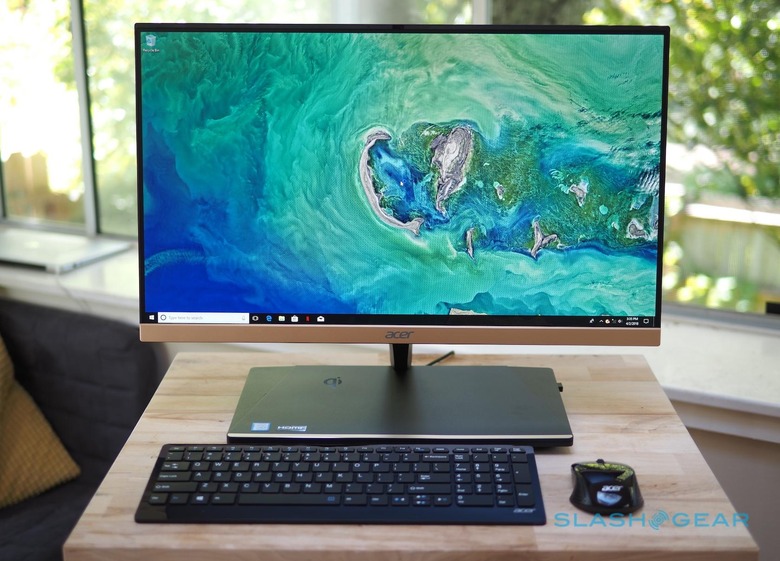 Currently, Acer has just one configuration for the Aspire S24, and it comes in at $879.99. That undercuts the cheapest 21.5-inch iMac, despite offering more RAM and a bigger screen, though Apple's all-in-one is more powerful. Acer throws in that useful Qi wireless charging, too.
As always, it really comes down to what you want to do with your AIO computer. Where the Aspire S24 excels is in delivering everyday usability in a compact footprint. You won't be gaming on it, or doing video editing or CAD work, but it's sleekly sufficient for everyday tasks and looks great in the process. That makes it a welcome addition to the desktop in our book.