Acer Aspire Revo R3610-U9012 nettop gets dual-core Atom update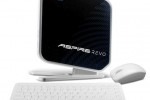 Acer's Aspire Revo nettop has just received a welcome shot in the arm, courtesy of a dual-core Atom 330 processor and an extra gig of RAM.  The Aspire Revo R3610-U9012 kicks out its predecessor's Atom 230 chip in favor of the quicker alternative, and pairs it with 2GB of RAM, Windows 7 and NVIDIA Ion graphics.  That should hopefully make the system a little better at coping with non-1080p video tasks, something the first model had issues with.
Acer have also updated the Aspire Revo's wireless connectivity – it now gets WiFi b/g/n – but otherwise specifications are the same.  That means a 160GB hard-drive, six USB 2.0 ports, HDMI, VGA and eSATA, together with gigabit ethernet and a multiformat memory card reader.
You can still hang it off the back of your LCD display, thanks to a standard VESA mount, but now it's actually a whole lot more usable; we haven't gone hands-on with the R3610, but we'd imagine it will put in a showing similar to the ASUS Eee Top ET2002 we reviewed earlier this week.  It's available now, priced at around $330.
[via Gizmodo]