Acer Aspire R7 Updated With Fourth Gen Intel Processors And Acer Active Pen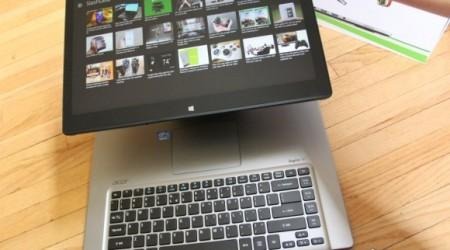 Acer is on hand at IFA 2013 and has pulled the wraps off an updated Aspire R7 notebook. This isn't a completely new notebook, we reviewed the first generation back in June. The updated notebook still has the fancy Ezel hinge for the screen. That hinge allows the notebook to be used in several modes of use including full tablet mode.
The big upgrade for the notebook that Acer is announcing at the show is that the notebook now includes the latest fourth-generation Intel processors and Acer Active Pen to improve the machines touch experience. The updated R7 maintains the same odd touchpad placement and touchscreen configuration as the original.
The idea behind the strange touchpad placement is to place the keyboard keys closer to the edge of the notebook making typing more comfortable. The big new feature here is the Acer Active Pen, which allows users to write and draw directly on the screen. The pen uses electromagnetic induction technology and responds to different degrees of pressure sensitivity allowing a range of pen strokes and more natural writing.
The pen can also be used with gesture controls for things such as pinch for resizing images and more. The updated machine also comes with some new touch applications including Acer MemoryBinder with different paint brush effects and Acer ScreenGrasp allowing images to be captured and personalize before sharing. The machine features 12 GB of memory and up to 1 TB of storage space with a traditional hard drive or 256 GB via a SSD. The keyboard is backlit and the machine runs Windows 8.1. The updated R7 will be available in Europe, the Middle East, and Africa in Q4 at a MSRP of €999. There's no word on when the machine might turn up in the US at this time.
SOURCE: Acer