Acer Aspire Predator AG3600-U4082 packs Core i5 2300 and GT 420 GPU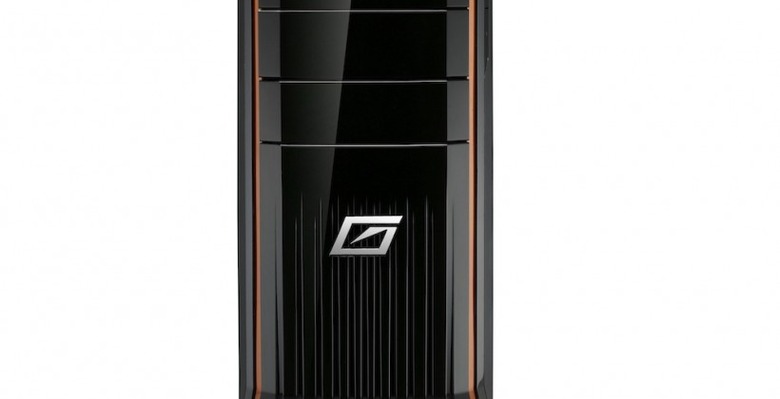 Acer has unveiled the latest in its Predator gaming PC range, now taking advantage of Intel's new 2011 Core i5 processors. The Acer Aspire Predator AG3600-U4082 offers an Intel Core i5 2300 CPU along with 8GB of DDR3 memory and NVIDIA GeForce GT 420 graphics, as well as a 1.5TB hard-drive.
There's also 5.1-channel audio and optional 3D, along with a spare HDD bay as well as three open PCI Express x1 slots. Connectivity includes ten USB 2.0 ports (four on the top, six at the back), three audio jacks as well as mini HDMI, DVI and D-SUB ports, and a multi-format memory card reader. The distinctive black and orange case has a handle and an accessory tray on the top for charging up your PMP or digital camera.
A DVD burner rounds out the key specs. The Acer Aspire Predator AG3600-U4082 is available now, priced at $899.
Press Release:
Acer Arms New Platoon of Gamers With the Aspire Predator AG3600

Predator family now features three distinct models to suit a diverse gaming community; Latest boasts ergonomic chassis, NVIDIA graphics and Intel® Core™ i5 processing with prices starting at just $899

SAN JOSE, Calif., Jan. 6, 2011 – Acer America Corp. is gearing up another tier of gamers with the expansion of its Acer Aspire "Predator" Series desktop PCs. In response to the increase in casual and mainstream gaming, its new Aspire Predator AG3600 boasts powerful performance in a slick chassis at an affordable price of just $899. Offering solid gaming performance with Intel® Core™ i5 processing and NVIDIA® GeForce™ graphics, the AG3600 is an excellent choice for those wanting to enjoy the latest games, movies and other content without breaking the bank.

Acer recognizes that not all gamers are the same. From casual to advanced, Acer's goal is to offer a machine to meet a variety of needs and budgets. In addition to the new AG3600, Acer offers the tricked out Aspire Predator AG7750 for competitive gaming fans and the Aspire Predator AG5900 for players seeking midrange performance and pricing.

"Online gaming is gaining momentum as the number of mainstream and casual users grows dramatically," said Irene Chan, senior business manager of consumer desktops for Acer America. "In addition, media consumption and content creation is increasing along with demand for stylish and practical ergonomics. Our response to these trends is the Predator AG3600, which offers casual gamers and digital media enthusiasts excellent graphics in a practical design at a great price."

Ergonomic, Aesthetic Appeal

The newest model in the Predator line, the Predator AG3600-U4082 boasts a contemporary look and feel. An attractive black chassis is accented with a bright orange strip and a striking vent design in the shape of the letter G for 'gaming'. The ergonomic chassis has the top of the system angled 45 degrees with the power button, four USB ports as well as headphone and microphone jacks conveniently positioned on the top front for easy access. It also features a tray for charging and storing digital devices and provides tidy cable management via intuitive grooves enabling different sizes of cable to snap in between. Simplifying transport, the system comes with a handle.

Eye-Popping Graphics, 3D Ready

Discrete NVIDIA® GeForce™ GT 420 graphics give users a visually-charged boost to favorite applications. Digital media enthusiasts can edit photos and HD videos as well as push the limits of their Web experience with a new generation of GPU-accelerated browsers. Better yet, they'll enjoy the next-generation gaming architecture built from the ground up for Microsoft DirectX® 11.

Thanks to the powerful graphics card, the Aspire Predator AG3600 is primed for dynamic 3D gaming. Gamers can add a 3D monitor and a 3D package encompassing high-tech wireless glasses and advanced software to transform PC games into an immersive 3D experience.

Multimedia Muscle

The Aspire Predator AG3600 features a whopping 8GB DDR3 SDRAM and an Intel® Core™ i5 2300 processor incorporating Intel's new architecture, H67 chipset and Intel® Turbo Boost 2.0 Technology, which speeds up the processor when extra performance is needed. In addition to an optical drive for backing up data as well as playing DVD movies and games, the AG3600 has a huge 1.5TB(1) SATA hard drive. That's a ton of storage for archiving games, movies and music. In addition, full support for Microsoft DirectX® 11 delivers rich visuals and high-def 5.1-channel audio infuses movies and games with dynamic sound.

This system is outfitted with a multi-in-one card reader for downloading photos, videos and other content from digital devices. Upgrades are made possible with an available hard disk drive bay as well as three open PCI Express x1 slots. There are ample connectivity options with 10 USB 2.0 ports (four on top, six in back), three audio jacks as well as mini HDMI, DVI and D-SUB ports.

Pricing, Availability and Warranty

The new Acer Aspire Predator AG3600 is available now at leading technology and electronic retailers and comes with a one year parts and labor limited warranty and toll-free technical support.(2) The Acer Aspire Predator AG3600-U4082 has a MSRP of $899.