Acer Aspire One Happy 2 netbooks lose Android dual-boot option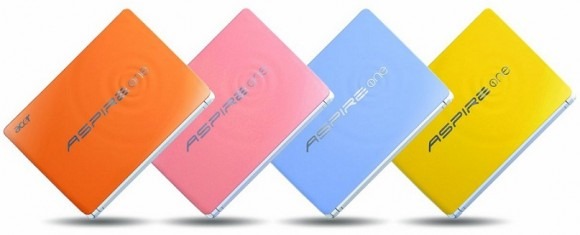 Netbook popularity may be fading the face of the tablet onslaught, but Acer knows what's needed to keep the segment afloat: fancy colors and endearing names. The new Acer Aspire One Happy 2 series offers Intel's dual-core N570 processor wrapped up in one of four bright colors – namely "Papaya Milk", "Strawberry Yoghurt", "Blueberry Shake" and "Banana Cream" – along with a 10.1-inch display and an 8hr battery.
There's also WiFi b/g/n, 10/100 ethernet, a 0.3-megapixel webcam and digital microphone, along with 1GB of RAM and a 250GB hard-drive as standard. OS is Windows 7 Starter, unlike the dual-booting fun of last year's models which offered both the Microsoft software and a copy of Android 2.1.
Still, there's a molded ripple in the lid to make sure the "happy" levels are suitably topped up, and you could always use it as an ashtray or oversized nutmeg grater if in a pinch. The netbooks measure 1-inch thick and weigh a little over 2.5lbs, while the keyboard is 93-percent full-sized.
The new Acer Aspire One Happy 2 Series Netbooks are on sale in the US now, priced at $269.99.