Acer Aspire One D250 gets video unboxing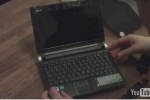 We may receive a commission on purchases made from links.
The Acer Aspire One D250 only got official on the last day of March, and already the first unboxing video has sprung up.  Packing an Intel Atom N280 processor and 1GB of RAM into a slim, 25.4mm thick casing, the Aspire One D250 has a 10.1-inch 1024 x 600 display.Video unboxing of the D250 after the cut
Other specs include a 160GB hard-drive, WiFi b/g and a 0.3-megapixel webcam, plus this particular D250 has Bluetooth and the multitouch trackpad.  Geeky Lives found a SIM card slot behind the battery, but right now they're unsure about whether it actually has a SIM reader inside, or is just a cut-out.
As you can see from the video, the Acer Aspire One D250 is pleasantly thin, although the 6-cell 4400mAh does protrude a little from the back (as opposed to making it significantly thicker).  The D250 is available to order from Amazon Germany now, priced at €379 ($502).
[via netbooknews.de]