Acer Aspire One AOD250 Android/Windows netbook officially official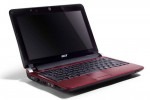 I am not sure what's with the Acer Aspire One D250 Android/Windows dual booting netbook. The thing hit Amazon a few days ago as a pre-order without any official word from Acer on the machine. Perhaps Amazon jumped the gun on posting the machine, the embargo on the netbook was only up today and Acer has now officially went all official and stuff with the netbook via a PR.
We already know most of the specs about the AOD250 like the fact that it dual boots Windows and Android on one machine. Amazon also has the price right, Acer reports the netbook will sell for $349.99. The device will have a 10.1-inch LED screen and a 160GB HDD.
The brains of the little system is an Intel Atom N280 processor. Power for the machine comes from a 5800 mAh battery and the system has 1GB of RAM and built-in 802.11b/g Wi-Fi connectivity. The touchpad also support multi-touch and gestures for scrolling and rotating the screen. A webcam and Bluetooth are featured as well. Graphics are via Intel GMA 950 and the machine will be available in red, black, blue, and white colors. Acer also says that the machine is now available, so if you pre-ordered at Amazon your rig should be coming soon.