Acer Aspire One AO751h Review - 11.6" HD Netbook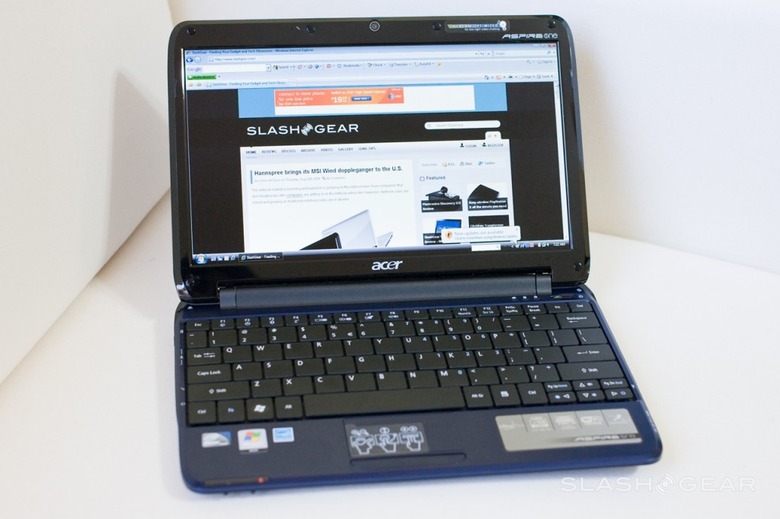 It's probably fair to say that we haven't been particularly impressed with what we've heard about Acer's Aspire One 751. The phrase "pretty but dumb" has been muttered more than once, an aesthetically pleasing machine but one lacking in processing power. So when Acer offered us the latest version, the AO751h-1522, we jumped at the opportunity to see how it holds up to our own exacting standards. Check out the full review after the cut
Outwardly the AO751 is an attractive, well made netbook. The 11.6-inch 1,366 x 768 16:9 HD-ready LED display sits above a well-sized, tactile keyboard which shows very little in the way of flex. The touchpad supports multitouch gestures such as pinch-zooming, two-finger scrolling and the like, and while smaller than the pad you'll find on a MacBook still proved highly usable. Around the edges there are three USB 2.0 ports, ethernet, VGA and audio in/out ports, together with a multiformat card reader; above the display is a webcam. The 6-cell 5,200mAh Li-ion battery protrudes out of the back of the chassis, but we found it provided a useful place to grip the AO751 when carrying it.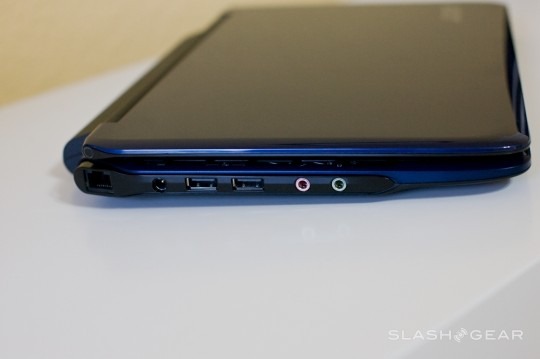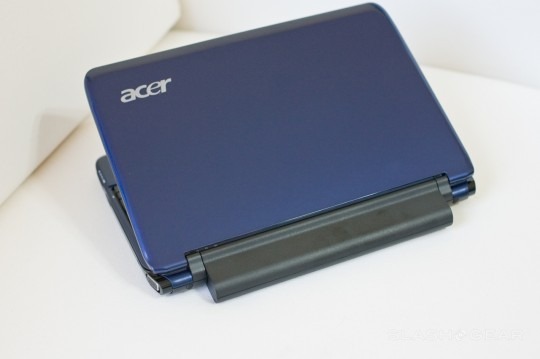 Inside there's a 250GB hard-drive, 2GB of DDR2 RAM, WiFi b/g, 10/100 ethernet and Vista Home Basic. Unfortunately that combination pushes the AO751 outside of Intel's narrow guidelines for N-series Atom processors, so Acer instead used the 1.33GHz Atom Z520 paired with Intel's GMA500 GPU. It's a weak combination, frankly, and led to some dramatically poor benchmarks. In Geekbench the AO751 managed an overall score of just 656, with faster memory-related scores held back by the underperforming processor. In comparison, the MSI Wind U100 – an Atom N270 1.6GHz machine with half the RAM – scored 886 in Geekbench.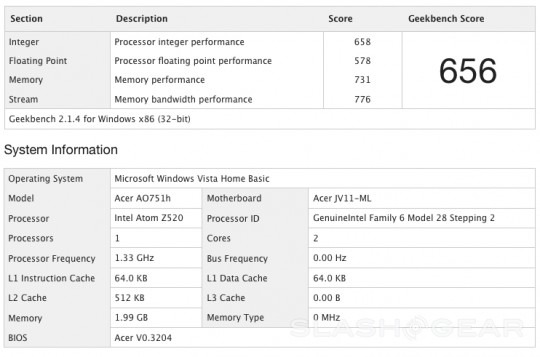 Battery life underscored the Geekbench results and really made clear where the AO751's priorities lie. The netbook lasted a little short of 3 hours 20 minutes of DivX video playback, the over-stressed CPU sucking down power, while when we turned to more casual netbook use – browsing, email, MP3 playback – the AO751 managed 5 hours and 20 minutes before expiring. While the resolution may support 720p HD, the 720p DivX clips we tried were initially choppy, settling after 10-15 seconds into watchable but not smooth playback.
In the end, then, it's Acer's choice of processor that most undermines the AO751. The Atom Z520 is simply too lackluster for this sort of implementation; a CPU that makes sense in a compact 5-inch MID has no place in an 11.6-inch ultraportable with a display that screams out for gorging on HD content. It's obviously something that Acer themselves recognize; while they're yet to comment officially, the appearance of the Timeline 1810T – with almost exactly the same chassis as the AO751 but with a CULV processor – seems to indicate that they too agree they left the grunt out of this model.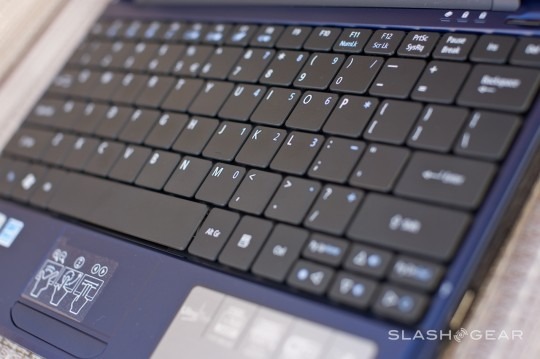 If your expectations of an 11.6-inch netbook are a device solely for browsing, email and MP3 playback then the AO751's 5+ hours run-time may tick your boxes, especially if you can find it significantly cheaper than the $399.99 MRSP online and if you do plenty of text entry. That to us screams of a niche too far, however, and we'd rather spend a little more for a stronger processor that can do the screen justice. To make no small amount of noise about the high-definition resolution of your display and then package it with a processor that can't keep up its side of the bargain smacks of marketing cynicism. The AO751h-1522 certainly puts in a better showing than the earlier versions, but it's still far from our first choice of budget ultraportable.