Acer Aspire Ethos 5951G Review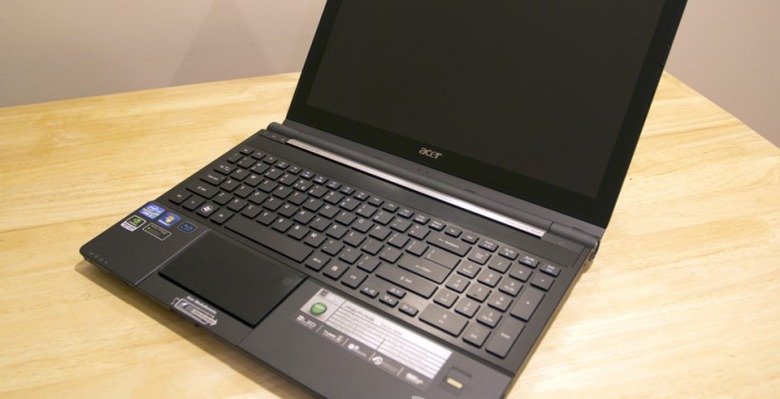 The Acer Aspire Ethos 5951G is the 15.6-inch little brother in this top of the line entertainment and multimedia laptop series that also includes a super-sized 18.4-inch Aspire Ethos 8951G, which we reviewed previously. If you liked the performance along with the sleek and sophisticated styling of that one but need a more portable size, then this is it. Continue after the cut for our full review.
Hardware
The Aspire Ethos 5951G sports a black metal lid with subtle striations for a finish that's sleek and sophisticated. Opening it up, you'll find the same material used as the bed for the chiclet style keyboard. The black isolated keys are backlit and have a very reassuring resistance about them that provides a solid and comfortable typing experience.
The palm rest area is all black as well but is a matted surface that seems fingerprint-proof, which will keep it looking nice and grease-free. There's a fingerprint reader located at the right side of this area, but what really stands out is the removable trackpad.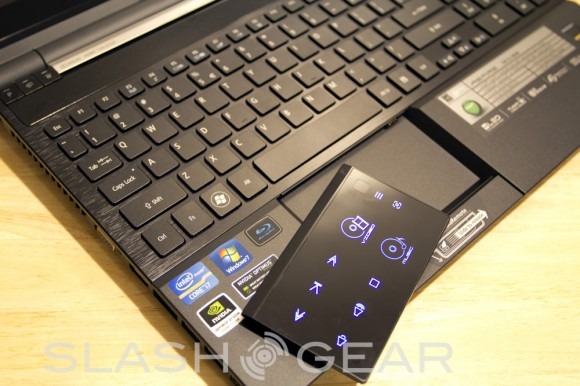 The trackpad has a nice smooth finish with a satin sheen that helps prevent fingerprint smudges. It can be removed with the push of a latch and used as a remote control. It's completely black, save for a small blue LED indicator light and a slightly indented button area, but once the button is pressed, backlit media control touch icons appear, including play/pause, forward, backward, volume, as well as Video and Music launchers. It's really convenient, but also seems easy to lose.
Above the keyboard, the Dolby Home Theater enhanced speaker spans across the entire width with the power button just above it to the right and three shortcut keys to the left. And looking up from there is the 15.6-inch HD 16:9 widescreen LCD display with WXGA (1280 x 768) resolution. There's also a standard embedded webcam and mic.
[sgbenchmark id=143 show=system]
Inside, it's powered by the latest Intel Core i7-2630QM quad-core processor, clocking in at 2.0GHz and up to 2.9GHz with Intel's Turbo Boost technology, along with an NVIDIA GeForce GT 555M graphics. It has 6GB of DDR3 SDRAM, supporting up to 16GB with 4 memory slots, and also has 2GB of dedicated DDR3 SDRAM for the GPU. It packs a 750GB (5400RPM) HDD, plenty of storage for all your multimedia files and also offers a Blu-ray disc drive.
Connectivity options include WiFi and Bluetooth 3.0 along with ports for RJ-45 Ethernet, HDMI, three USB 2.0 ports with one being an eSATA combo port, one USB 3.0, VGA, and a built-in memory card reader.
[vms a750c7475b6d601c35c2]
Software & Performance
The Acer Aspire Ethos 5951G comes running Windows 7 Home Premium 64-bit and includes Microsoft Office Starter 2010, Silverlight, Skype, Windows Live Essentials 2011, Bing Bar, Adobe Flash Player 10, Adobe Reader 91 and several Acer-specific apps and utilities such as Backup Manager, ePower Management, eRecovery Management, Crystal Eye, and Video Conference Manager. But none of this seems to bog down the system, which has some rather impressive benchmark scores.
[sgbenchmark id=143 show=score]
Using the GeekBench 2011 synthetic benchmarking tool, we found that the Aspire Ethos 5951G scored a blazing fast 11,010. That sets the 5951G with its 2.0GHz Intel Core i7-2630QM slightly ahead of the latest Intel Core i7-2720QM-toting MacBook Pro, which scored an already impressive 10,932. It also put's it way ahead of its 18.4-inch brother, the 8951G, which also sports a Core i7-2630QM, but scored only 7,301.
The display quality was excellent although viewing angles could be improved. Colors get a bit muted once you move from being in a direct line of sight. However, the audio quality was superb with a wide soundstage, good bass response, and crisp dialogue.
Battery
Battery life for the Aspire Ethos 5951G is rated for up to 7 hours, running on an 8-cell 6000mAh Lithium-Ion battery. Our testing of it, which involved playing a DVD at 100 percent brightness and audio, after one hour showed 78 percent battery remaining. That translates to roughly 4.5 hours of total battery life under this type of usage. Regular email and web browsing should yield much better results.
Wrap-Up
The Acer Aspire Ethos 5951G is a premium entertainment, multimedia, and gaming notebook that offers sophisticated styling, a solid build, and superb performance. It sports a Blu-ray drive, excellent sound quality, and boasts a unique removable multi-touch trackpad that doubles as a remote control, adding convenience as well as a "cool" factor. There's not too much we can pick on about the laptop, except that perhaps it's still not quite as portable as its 15.6-inch size might suggest. While it's definitely more portable than the 18.4-inch 8951G, it still weighs a hefty 7.28 lbs—not something you'd want to be lugging around town. But as a home or dorm entertainment, internet, work, and play hub it'll shine. Priced at $1,399.99.