Acer Aspire AS5738PG multitouch notebook breaks cover with Windows 7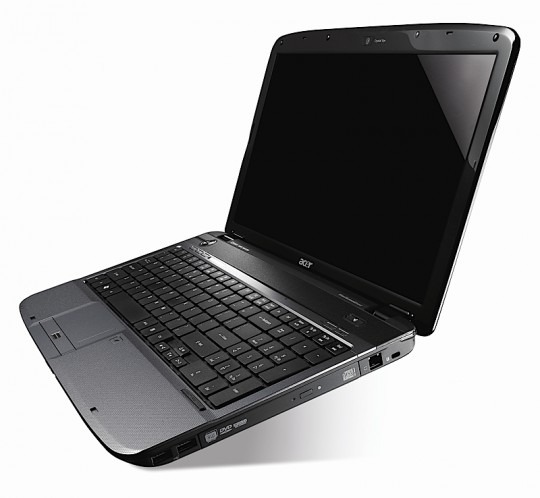 have announced their first touchscreen notebook, the Acer Aspire AS5738PG-6306, complete with
and a 15.6-inch 1,366 x 768 multitouch-capable display.  The AS5738PG supports one- or two-finger gestures on the screen, such as pinch-zoom, and is based on Intel's 2.2GHz Core 2 Duo T6600 processor with 4GB of DDR2 memory and ATI Radeon HD 4570 512MB graphics.
There's also a 320GB hard-drive, DVD burner and WiFi a/g/n, together with a webcam and enough room for a separate numeric keypad.  Connectivity includes four USB 2.0 ports, an HDMI output, ethernet and audio in/out, and there's a fingerprint reader underneath the multitouch-capable trackpad.
What you don't get is a rotating display, so you can't use the notebook in slate-orientation like a regular tablet PC.  The Acer AS5738PG-6306 will be priced at $799.99, and will come with the company's own touch-friendly UI enhancements.  It's set to arrive on October 22nd, along with Windows 7.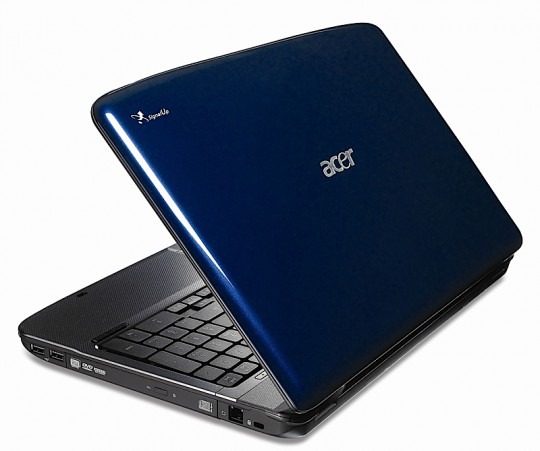 Press release:
ACER'S FIRST NOTEBOOK WITH TOUCHSCREEN CAPABILITIES DELIVERS HANDS-ON IMMERSIVE ENTERTAINMENT

Launching with Windows 7, the new Aspire AS5738PG multi-touch screen notebook delivers incredible new functionality, high-performance features, and mobile entertainment

SAN JOSE, Calif., Oct. 14, 2009 – Acer America, part of the world's third largest PC company(1) today debuts its new Acer Aspire 5738PG notebook PC – the company's first notebook with multi-touch screen capabilities that offer a natural and enhanced way to interact with the PC, applications and digital data.

The Acer Aspire 5738PG multi-touch screen notebook launches with Windows 7 Home Premium and will be available starting October 22 at select retailers.

The Acer Aspire 5738PG's high-quality multi-touch screen display and Windows 7 multi-touch support makes entertainment and multimedia experiences more intuitive and interactive. As a result, customers can touch anywhere on the screen using one or two fingertips to play movies, zoom in and out on websites, edit photos and video, handwrite notes, resize windows, launch entertainment applications and more.

Also, customers can use the multi-touch screen for a variety of gestures directly on the screen for intuitive and accurate access and control. For example, customers can pinch inward or outward to zoom in and out of photos, flick the screen to turn the page and browse through media and documents, as well as swirl their finger for quick and simple navigation of lists.

"Customers will experience an incredible level of flexibility and control in the multi-touch screen interface, as it frees them to interact with their digital world in a way that is familiar yet also new and exciting," said Ray Sawall, senior manager of product marketing for Acer America. "The Acer Aspire 5738PG's multi-touch experience takes advantage of the many new capabilities in Windows 7 and provides incredibly powerful first-rate technology such as ATI Radeon graphics and an Intel Core 2 Duo processor."

Sawall continued, "Until now, touch notebooks have been limited in capabilities and available only at a substantial price premium. The new Acer Aspire 5738PG changes all this with multi-touch screen capabilities and a price that is affordable for a wide range of customers."

Impressive Mobile Theater Entertainment

More than the sum of its touch points, the Acer Aspire 5738PG notebook combines first-rate technologies that deliver excellent performance for mobile theater entertainment and mainstream games.

The display was designed to provide an extraordinary cinematic experience that is immersive and incredibly realistic. The vibrant HD display is a 16:9 widescreen size that's ideal for enjoying movies and online entertainment. Plus, it's LED-backlit, which reduces energy usage compared to traditional laptop displays. Along with the 1366x768-resolution, the LED-backlit display contributes to the display's crisp clear visuals and is ideal for enjoying HD movies. Plus, the touch-control is remarkably precise.

Complementing the HD display, the system's Intel Core 2 Duo processor provides the horsepower to drive demanding applications with ease. In addition the high-definition ATI Radeon HD 4570 Graphics with 512MB Dedicated DDR3 VRAM enhances imagery with vivid color and crisp detail. Dolby Home Theater Audio Enhancement with built-in speakers and 5.1-channel surround sound output bring these incredible visuals to life with vibrant crisp audio.

Technology and Extras for On-the-Go Productivity and Fun

Customers will have plenty of ways to access, store, share and enjoy their digital media files. The spacious 320GB hard drive can store a vast library of music, video, photos, spreadsheets and email. An integrated multi-in-one media reader enables connection to peripherals and electronic devices, while an HDMI port allows the system to support any PC, TV or other device with an HDMI port via a single cable. The four USB 2.0 ports provide ample connections to peripherals and consumer electronics.

Staying in touch is fun and convenient with the notebook's integrated 802.11a/b/g/Draft-N wireless technology and Gigabit Ethernet. The Acer Crystal Eye webcam enables high-quality video chats and VoIP with friends, family and work associates. It can also capture still pictures and videos for sharing with others.

Hardware and Design Enhance the Touch Experience

The overall multi-touch screen experience is further enhanced by giving customers more ways to interact with their notebook through the multi-gesture touchpad. Affording easy PC navigation, the new Aspire 5738PG's multi-gesture touchpad lets users access their applications and media with the same sort of natural, intuitive gestures they can use on the touch screen, including pinch, flick and swirl. The convenient touchpad lock can be set to prevent unintended cursor movement.

The new Acer Aspire 5738PG multi-touch screen notebook also comes with helpful and easy-to-use one-touch buttons: the Acer Backup Manager for backing-up important files and information, and the PowerSmart button for maximizing battery life. In addition, the notebook is Energy Star qualified.

Availability, Configurations and Pricing

The Acer Aspire AS5738PG-6306 notebook is the first model available in the line. It will be available for U.S. customers with Windows 7 Home Premium beginning Oct. 22 at leading retailers. Specifications and pricing follow.

The Acer Aspire AS5738PG-6306 is available in Acer's popular Gemstone Blue color.

Acer® Aspire AS5738PG-6306 Multi-Touch Screen Notebook PC

· 15.6-Inch HD CineCrystal™ LED-Backlit Multi-Touch Screen Display (Widescreen 16.9 Aspect Ratio, 1366x768 Resolution)

· Windows 7 Home Premium 64-bit

· Intel Core 2 Duo Processor T6600 (2.2GHz, 2MB L2 cache, 800MHz FSB)

· ATI Radeon™ HD 4570 Graphics with 512MB Dedicated DDR3 VRAM

· 4GB DDR2 667MHz Dual Channel Memory

· 320GB SATA Hard Drive(2)

· 8X DVD-Super Multi Double-Layer Drive

· Dedicated Numeric Keypad

· Intel® Wireless WiFi Link 5100 802.11a/b/g/Draft-N Wi-Fi CERTIFIED™ Network Connection, Featuring MIMO Technology, Supporting Acer SignalUp™ With Nplify™3, 4 Wireless Technology

· Two Built-In Stereo Speakers With Dolby®10-Optimized Surround Sound System

· Acer Crystal Eye Webcam With 640 x 480 Supporting Acer PrimaLite™ Technology

· HDMI Port and Four USB 2.0 Ports

· Energy Star

· 6.16 lbs with 6-Cell Battery

· MSRP: $799.99