Acer Aspire 8943G Review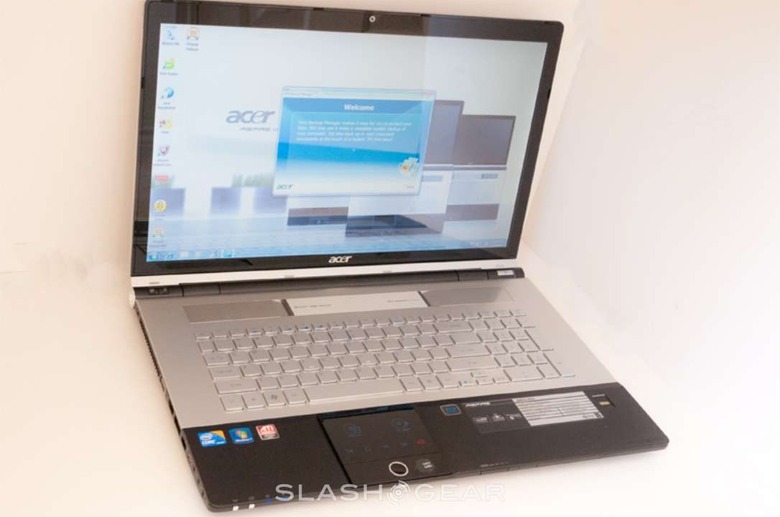 Acer's Aspire 8943G notebook is about as far from the company's budget netbooks as you could get in a computer and yet still have a battery. A sizeable desktop replacement, with slick, minimalist design and high quality materials, the Aspire 8943G doesn't stint on specifications, either, with an Intel Core i7 CPU and lashings of RAM. Can an Acer PC really compete, not just on performance but aesthetics too, with Apple's well-esteemed MacBook Pro line? Check out the full SlashGear review after the cut.
Hardware & Design
You can't accuse Acer of stinting on the core specifications. The Aspire 8943G packs Intel's 1.73GHz quad-core Core i7-740QM, paired with 8GB of DDR3 memory and Radeon HD 5850 graphics with 2GB of dedicated memory. Storage is a single 500GB 5,400rpm hard-drive, and the display is an 18.4-inch LCD running at 1920 x 1080. Acer quote 220-nit brightness and 8ms contrast ratio, and the screen is certainly bright and clear, with sharpness that puts other notebooks to shame. A webcam is embedded in the bezel, and there's a combo Blu-ray player and DVD burner.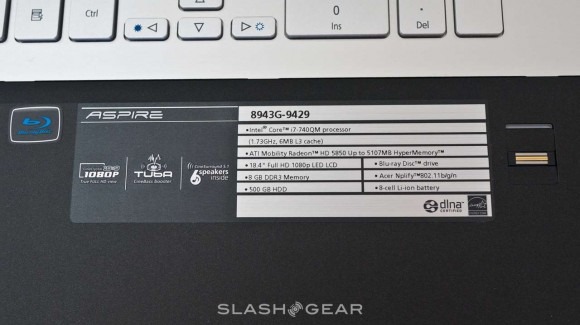 Connectivity, meanwhile, includes WiFi b/g/n and Bluetooth 2.1+EDR as standard, along with gigabit ethernet, HDMI, VGA, FireWire, eSATA, five USB 2.0 ports, audio in/out, S/PDIF and a 5-in-1 multiformat memory card reader. Acer has found space for five separate speakers and a subwoofer in the Aspire 8943G's chassis, for surround sound, and there's 5.1-channel output for those wanting to use an external speaker setup. The built-in set outperform the HP Beats Edition speakers found in some of HP's high-end notebooks.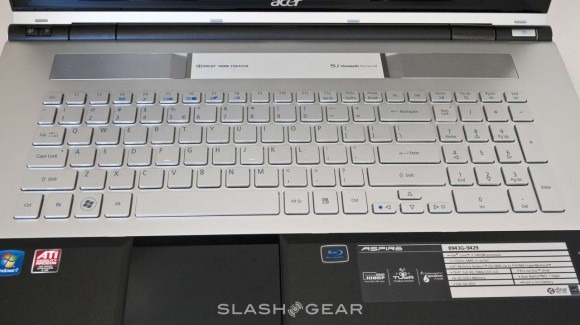 So far so good, but it's the quality and design of Acer's chassis that really impresses. Swathes of high-quality brushed aluminum cover help with a truly premium feel, and the full-size, 103-key keyboard (with separate numeric keypad) is one of the best we've used on a notebook. There's no flex whatsoever in the keyboard tray, leading to a really solid typing experience.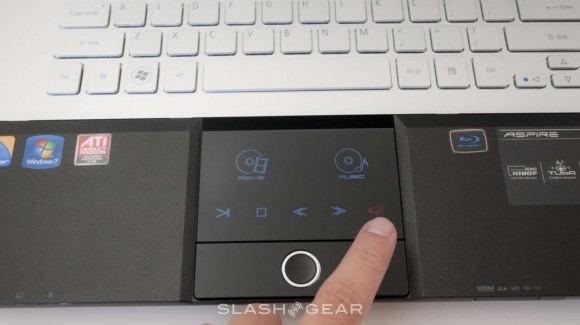 Underneath is a decent sized, glossy trackpad supporting multitouch gestures like two-finger scrolling, pinch-zoom, rotate and flip. It's crisp and responsive. However it also doubles as a media console panel, with backlit buttons for movie and music app shortcuts, play/pause, stop, previous and next. Considering the Aspire 8943G's multimedia aspirations, it's a useful addition and works surprisingly well.
Software
The Aspire 8943G runs Windows 7 Home Premium, but Acer seem intent on weighing the notebook down with as many add-ons, trials and general bloatware as possible. There are a full nine Acer apps – ranging from webcam tools, update managers and remote-support – then add-ons from Google, Adobe and Windows Live Essentials. Microsoft's Works, Silverlight and a 60-day Office trial, a trial of McAfee Internet Security, North Online Backup, NTI Media Maker, Skype and eSobi round out the rest.
We've no doubt that the Core i7 processor and sizeable chunk of RAM can handle the bloat, but it adds up to a poor user experience and a machine that feels cluttered even on first boot. Acer obviously make some money from preloading the trials and other apps, which we can accept somewhat when it deals with the budget end of the company's range, but on what's meant to be a premium machine we're less forgiving.
Performance
We began our benchmarking with Geekbench, a synthetic test of processor and memory performance. The Acer Aspire 8943G scored 5850, with particularly strong processor scores. That's around 500 points less than the mid-2010 2.66GHz Core i7 MacBook Pro we reviewed in April 2010, which had half the RAM of the Acer but a faster processor.
[sgbenchmark id=128 show=score]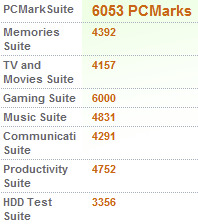 We then turned to PCMark Vantage, which looks at various categories of PC use and rates system performance in each. Overall, the Aspire 8943G scored 6053, with particularly strengths in gaming (6000), music (4831) and productivity (4752).
The Acer's strength is in its multitasking abilities. Since it has a quad-core processor (unlike the dual-core MacBook Pro CPU) any multi-threaded tasks will run faster on the Aspire 8943G. That means it's particularly adept when it comes to video processing, especially with the capable ATI GPU on board. Still, it can be a loud system: the Blu-ray drive itself is quiet, but the system fan kicked in periodically throughout movie playback, and it's a noticeable hum. Similarly, the fan was running continuously – and loudly – during graphics-intensive gaming.
Battery Life
Acer's eight-cell lithium-ion battery may add considerably to the Aspire 8943G's 10.1 pound weight, but with the high-performance components the runtime estimates are modest. Acer suggest up to 3 hours from a full charge; in practice, we managed 2.5 hours consisting of an hour of Blu-ray playback, 30 minutes of gaming and the remainder browsing over WiFi.
The Core i7 MacBook Pro is rated by Apple for over twice the runtime as the Acer, though we found that with reasonable use it could manage around four hours. In short, if you're looking to take advantage of the high-end specifications of the Aspire 8943G, you should probably find an AC socket first.
Verdict
With an RRP of $1,599 (and a street price roughly $100 less) you're getting plenty of laptop for your money with the Acer Aspire 8943G. Yes, the Core i7 MacBook Pro edges ahead in raw benchmarks, but it's also significantly more expensive; the review unit we tested in April cost $2,199. Video editing and gaming should make better use of the Acer's quad-core processor, too.
There are a few disappointing omissions – the lack of USB 3.0 ports being one of them – and we wish Acer had used a 7,200rpm hard-drive rather than the 5,400rpm model that's fitted as standard, but it's hard to pick holes otherwise. Stylish, solidly-constructed and powerful, if you're in the market for a Windows-based desktop replacement then the Acer Aspire 8943G should be near the top of your shortlist.