Acer AOD250-1613 Android-powered netbook up for pre-order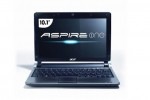 We may receive a commission on purchases made from links.
I have to say that Android is making big moves right now. It has fast become one of the most talked about mobile phone OS' and is finding its way into other products. One of the products that many people have been waiting for Android to turn up in are netbooks. If you have your heart set on the spiffy Acer AOD250-1613 10.1-inch netbook with the dual boot Andorid/Windows XP OS you can pre-order yours now.
Amazon.com has the netbook up for pre-order right now for $349.99, which actually isn't a bad price considering you get Android and Windows XP. The device isn't officially released yet and has no estimated ship date. The good news is if you buy now when it does ship, you don't pay for the shipping charges.
Other features of the device include a 1.66GHz Intel N280 processor, 1GB of RAM, 160GB HDD, and a 6-cell battery. Acer says that the machine is good for up to 9 hours of runtime per charge. The screen is a 10.1-inch WSVGA unit and graphics are via Intel GMA950. I want one.